There's never been much question as to whether taking out a payday loan is a sound financial decision. The short-term loans come with extremely high interest rates that accrue daily, leaving many borrowers facing another financial crunch when they must repay.
Yet many never ever repay and instead fall deep into a rabbit hole of debt.
A new report out Tuesday by the Consumer Financial Protection Bureau offers the clearest evidence yet of how payday loan borrowers can quickly become trapped in a cycle of debt -- and how the loans themselves become like an addiction difficult to break.
Payday lenders have often attempted to characterize their product as a "bridge loan," lent for a short period of time to customers facing a temporary cash crisis. The CFPB report, however, shows just that many payday borrowers actually are repeat customers.
More than 80 percent of all payday loans are renewed within 14 days, the bureau determined, using data provided by storefront lenders. This means a borrower took out a new loan, or renewed the old one, within that time span.
The renewal rates are just as high over a two week period in those states that impose limits on the number of loans a borrower can take out in rapid succession as those without a so-called cooling off period, the CFPB found. This suggests that states efforts to limit payday borrowing might not be doing much good.
One of the most disturbing analyses done by the consumer agency concerns loan sequencing -- a succession of loans, taken out by one person within 14 days of each other.
Almost No One Takes Out Just One Payday Loan

Most payday loans are made to frequent borrowers. Half of all payday loans are issued as part of a sequence of 10 loans or more. More than 60 percent of all loans are part of a sequence of seven or more.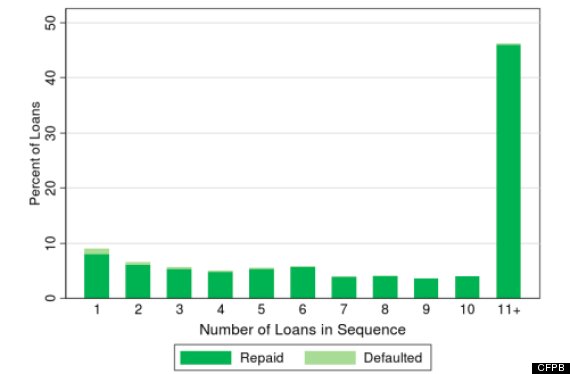 With a typical fee of 15 percent for each payday loan, by the time a consumer hits the seventh loan in a sequence, he or she will have paid more in fees that the original amount borrowed. For example, a borrower who withdraws $200, and renews the loan seven times, will pay $210 in finance charges.
Unfortunately, many payday customers have few places outside of a payday lender to go if they are in desperate need of cash. In 2011, the Federal Deposit Insurance Corp. found that 17 million adults live in an unbanked household, meaning they have no access to the traditional U.S. financial system.
According to the CFPB, about 12 million adults borrow from payday lenders annually.
PHOTO GALLERY
States with most unbanked households (clone)