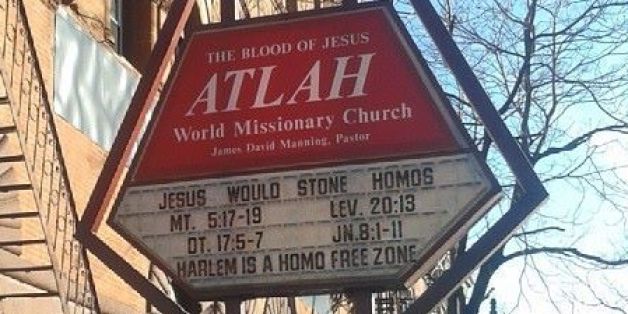 An anti-gay church is New York City is about to become the subject of several demonstrations by queer NYC advocacy organizations in response to its vehemently homophobic rhetoric.
The ATLAH Worldwide Missionary Church in Harlem has made waves on the Internet during the last several weeks for a series of controversial signs, as well as the outspoken anti-gay views of pastor Dr. James David Manning. Now, the homophobic church will become the subject to two demonstrations, one on Thursday, March 27, and another on Saturday, March 30.
According to a Facebook post by Jennifer Louise Lopez, a lesbian who confronted church leaders last week, on Thursday "the NYC LGBT New York City Anti-Violence Project will be meeting across from the church at 3pm to 5pm." On Saturday, ACT UP NYC, ETNYC and others "will be meeting up directly in front of the church at 11:30am during their warship service."
The ATLAH Worldwide Missionary Church first made headlines in late February when religious leaders posted a polarizing sign that read "Obama has released the homo demons on the black man. Look out black woman. A white homo may take your man."
The church then later replaced the sign with one that read "Jesus would stone homos," along with "Stoning is still the law" and Bible verses Matthew 5:17-19, Deuteronomy 17:5-7, Leviticus 20:13 and John 8:1-11.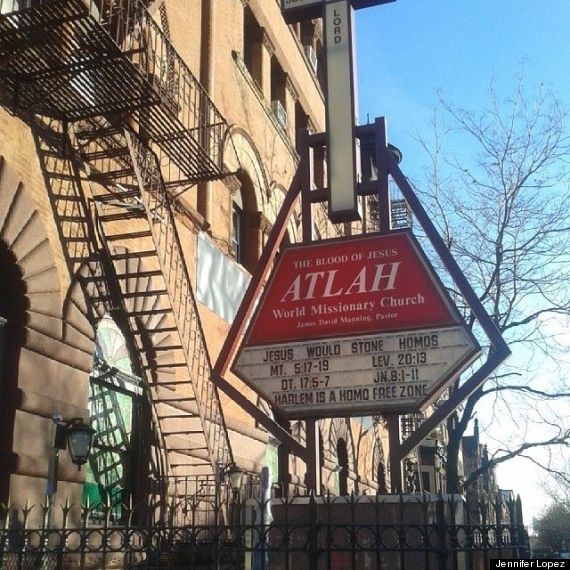 Following the posting of this second sign, Lopez approached the church and knocked on the door to informing the church leaders that she was there for her stoning. The man who answered the door ultimately told Lopez that he didn't have any stones but she should come back the next day.
The church's anti-gay pastor, Dr. James David Manning, later came out in defense of his church's billboards, claiming that "I never said that I would stone homos. I never said that I would ask anyone else to stone homos. I never said that. What I did say is what the Bible says."

BEFORE YOU GO
PHOTO GALLERY
13 Things The Bible Forbids (That You're Probably Guilty Of Doing)