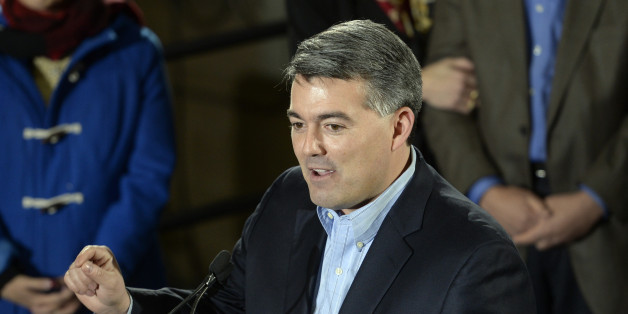 Rep. Cory Gardner (R-Colo.), who is running to unseat Sen. Mark Udall (D-Colo.), may have mischaracterized how recently he changed his feelings about fetal personhood.
Colorado voters rejected a personhood measure, which would have granted a fertilized egg the same legal rights as a person, by a 3-to-1 margin in 2010. Gardner supported the measure at the time, but he told The Denver Post last Friday that he began to reexamine his stance sometime after the vote. He said he realized he could no longer back personhood measures because they outlaw certain forms of contraception.
"This was a bad idea driven by good intentions," Gardner said. "I was not right. I can't support personhood now. I can't support personhood going forward. To do it again would be a mistake."
However, the paper revealed Wednesday that Gardner sent a letter to his constituents just four days before his public reversal, in which he reiterated his support for the rationale behind personhood measures.
"Throughout my life, I have been committed to the protection of life beginning at conception," Gardner wrote in the letter.
Gardner also sponsored the Life Begins at Conception Act in the House of Representatives in 2012 and 2013, which Democrats say mirrors state-level personhood measures.
Udall's campaign released a Web ad accusing Gardner of flip-flopping solely because of his Senate bid.
The Gardner campaign did not immediately respond to a request for comment.
The race for the Colorado seat is considered one of the country's more competitive. A Gardner victory could help Republicans recapture the Senate.
Gardner's newfound opposition to personhood measures inspired Rep. Mike Coffman (R-Colo.), who is facing a tough reelection battle in his district, to similarly change his position on the issue.
Personhood will be on Colorado's ballot again this year, in the form of Amendment 67, which will ask: "Shall there be an amendment to the Colorado constitution protecting pregnant women and unborn children by defining 'person' and 'child' in the Colorado criminal code and the Colorado wrongful death act to include unborn human beings?"
BEFORE YOU GO
PHOTO GALLERY
Senate Seats Up For Grabs In 2014