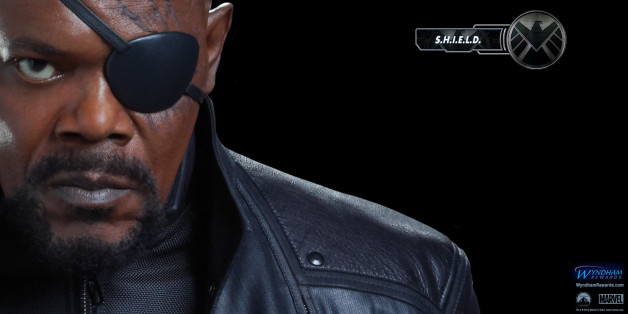 With "Captain America: The Winter Soldier" almost here, fans of the Marvel cinematic universe are already looking ahead at what will become of their favorite characters in the upcoming "Avengers: Age of Ultron."
In an interview with Yahoo UK, Samuel L. Jackson shined some light on what his role will look like in Joss Whedon's sequel.
"I'm just kind of passing by there [in 'Avengers 2'] you know. I'm not doing so much, I don't think," the 65-year-old, who plays Nick Fury, said. "Because, it's another one of those 'people who have powers fighting people who have powers.' That's why I didn't get to New York in 'The Avengers.' There's not a lot I could do except shoot a gun."
As The Hollywood Reporter notes, earlier this year Jackson revealed he only has a few more movies left in his contract with Marvel Studios. Jackson originally signed a nine movie contract. "Age of Ultron" will be his seventh appearance as Nick Fury (not counting his recent cameo on "Marvel's Agents of S.H.I.E.L.D").
"I just know that the Marvel Universe is there, that there are things going on, and that I have three pictures left on my nine-picture deal," he told Fandango at the time. "That's all I know."
While Jackson's role will be limited, Tom Hiddleston told Entertainment Weekly that his character, Loki, won't even be making an appearance in the sequel. A similar omission was reported during the Yahoo UK interview; Anthony Mackie, who will be introduced as the comic book hero Falcon in "The Winter Soldier," told the outlet he has not been asked to reprise his role in the film.
"Captain America: The Winter Soldier" premieres in the United States on April 4, and "Avengers: Age of Ultron" is slated for release on May 1, 2015.
BEFORE YOU GO
PHOTO GALLERY
Comic-Con 2013