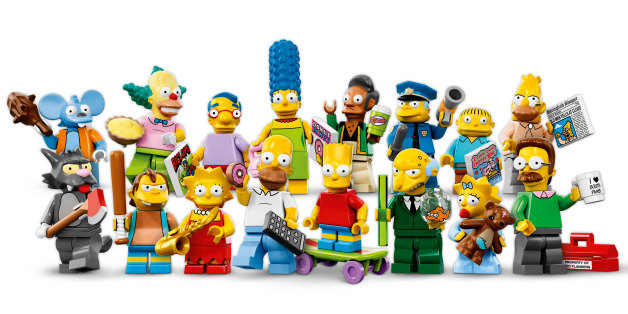 A new set of characters from "The Simpsons" have been brought to the world of Lego. In partnership with 20th Century Fox and in honor of the 25th anniversary of the television series, Lego has released a series of 16 new character figurines from the iconic animated comedy.
These new characters are slightly different from the figures in a Lego set released back in February. The new Lego cast includes the five family members, Ned Flanders, Mr. Burns, Ralph Wiggum, Chief Wiggum, Apu, Millhouse, Nelson, Krusty, Itch and Scratchy. To top it off, each character comes with their very own accessory.
"The entire line of Lego 'The Simpsons' minifigures series is launching in May in major toy retailers nationwide for $3.99 each, just in time for the special Lego episode of 'The Simpsons' that's premiering May 4 on Fox," a Lego spokesperson told The Huffington Post.
The company also mentioned that this is the first line of licensed Lego minifigures sold as standalone items. Normally Lego figures come with a model to build, as was the case with the "Simpsons" Lego set from February.
Check out photos of the new Lego "Simpsons" figurines: