She was babysitting her granddaughter when the mudslide hit.
Christina Jefferds, a 45-year-old Snohomish County woman, is the first fatality to be formally identified in Saturday's deadly mudslide in rural Washington state. Medical examiners said she died of blunt impact injuries when a massive torrent of mud swept though her home.
Her daughter, Natasha Huestis, told NBC News that searchers are still looking for her 4-month-old baby girl, Sanoah, who'd been with Jefferds when tragedy struck.
"We won't stop until we find her. She means the world to so many people. She's what's keeping us going," Huestis, 26, said. "We'll find her. She can't be far."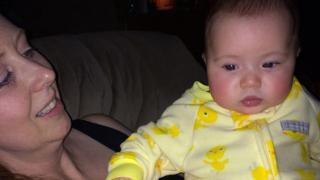 Jefferds (left) and her granddaughter, Sanoah.
On Wednesday, authorities said 25 people were found dead and 90 were missing. Some bodies had been found in the debris but not yet recovered, according to KING.
"There are finds going on continually. They are finding people now," Steve Mason, a fire battalion chief from south Snohomish County who is leading the west side operation, told the station.
But it hasn't been easy -- physically or emotionally. Quicksand-like mud and loads of debris have hindered the search, which became grimmer as it entered its sixth day Thursday.
"People are under logs, mixed in. It's a slow process," Mason told KING.
While responders haven't given up hope of finding survivors, time may be running out.
"Realistically... I honestly don't think they're going to find them alive," Becky Bach, whose great-niece is missing, along with the young girl's fiance, told the Associated Press. "But as a family, we're trying to figure out what to do if they find no bodies."
Like Us On Facebook |

Follow Us On Twitter |

Contact The Author
BEFORE YOU GO
PHOTO GALLERY
Dangerous Days