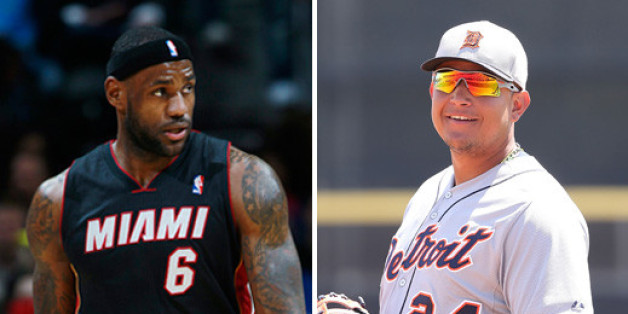 LeBron James wants what Miguel Cabrera has.
Before the Miami Heat superstar dominated the Pistons in Detroit on Friday night, he told reporters how amazed he was with the massive 10-year, $292 million deal the Tigers gave Cabrera this week.
"I wish we didn't have a salary cap," James said, via the Associated Press. Then he said he would opt out of his contract with the Heat if he could get the same deal as the two-time AL MVP. "The best players in each sport should be rewarded. It would be nice to sign a 10-year contract for $300 million. I would do it. I would do it for sure."
But while the four-time NBA MVP might be a little envious of Cabrera's new deal, the slugger might want a piece of James' endorsement pie.
According to Forbes, James made $42 million in endorsements in 2013, which is more than Major League Baseball's 10 biggest endorsers made combined (less than $30 million). In 2013, James was ranked fourth among the world's highest-paid athletes, per Forbes. Cabrera didn't crack the top 40.