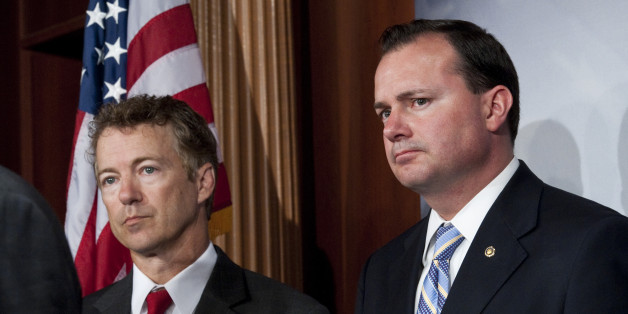 Republicans Doug Ose and Igor Birman both spent years in Washington, Ose serving in Congress and Birman as a top aide to Rep. Tom McClintock.
But the growing lists of supporters lining up behind each of the congressional candidates couldn't look more different.
Ose, a wealthy developer who served three terms before honoring a pledge to return home in 2005, has been endorsed by a large share of the elected officials representing parts of suburban Sacramento's congressional district. That includes nearly two-thirds of the council members across the four cities and a majority from the five-member county Board of Supervisors.
Birman, on leave as the chief of staff to McClintock, has the support of some high-profile Republicans from the libertarian wing of the party: former Rep. Ron Paul of Texas, Sen. Rand Paul of Kentucky and Sen. Mike Lee of Utah.
Elizabeth Emken, another Republican in the race, draws some of her backing from elected state lawmakers.
While none of the candidates have demonstrated they can cut into freshman Rep. Ami Bera's base of Democratic Party allies, their endorsements help map the battle lines being drawn in the 7th District.
Ose, 58 and a product of the area, is yoking himself to the local political establishment to stress his ties here. Birman, 32 and new to the district, is counting on GOP stars and tea-party-aligned figures to provide a quick reference point to unfamiliar voters.
"That's all people are looking for. They are looking for dime-markers," said Wayne Johnson, a veteran Republican political consultant in Sacramento.
Those markers could point voters to Birman if they want the more conservative candidate, even if they don't necessarily support the person making the endorsement. Ose's locally focused endorsements reinforce his family's roots in the region.
Many of Birman's endorsers point to his family's journey to the United States from the Soviet Union as evidence that he doesn't take his freedoms for granted. His campaign draws heavily from the shared experiences, with Birman's parents appearing alongside him on the stump to warn about the miseries of despotism.
In an interview with The Sacramento Bee, Ron Paul said Birman's ability to see the warning signs in the U.S. makes for a strong message. The three-time presidential candidate said recent immigrants frequently express to him their gratitude to be here but increasingly say they are experiencing a gradual change in the wrong direction -- toward the conditions they left.
"Over the years -- and I've been involved in politics for several decades -- it's always been amazing how recent immigrants who have come from other lands to this country are excited and remain excited and pleased to be in America. But at the same time, they see some of the careless attitudes that we have and fear that we may be slipping into a more authoritarian government than what was intended," Paul said. "I think Igor recognizing that as great as we are, and as grateful as he is being here, he sees some changes in the attacks on civil liberties that have motivated him to speak out, and I think that's great."
Paul, who gained a national following for his libertarian strain of conservatism, characterized his wading in to the closely watched congressional primary as unusual, saying he's made fewer endorsements since leaving Congress last year and becoming more involved in education policy.
"When I see someone like Igor come along, I think it's great that he's doing it and I want to encourage him," Paul said. "I have as much conviction that you have to change peoples' minds on policy as I do just putting new people in office."
Paul said he doesn't have plans to campaign in the 7th District, although he's scheduled to appear at California State University, East Bay, on April 9 and the Commonwealth Club of California in San Francisco the next day.
Paul's son, Sen. Rand Paul, issued his endorsement on Wednesday, saying he has no doubt Birman will stand with him as a passionate defender of liberty.
"Our nation needs Igor in the halls of Congress, and I will do all I can to help get his voice to the floor of the U.S. House of Representatives," he said.
Birman's candidacy also is supported by Republican Reps. Justin Amash of Michigan, Thomas Massie of Kentucky and Mick Mulvaney of South Carolina, along with tea-party-aligned groups such as FreedomWorks. Some of the organizations in his corner could prove helpful given their history of spending money on behalf of preferred candidates and against their opponents.
In fielding attacks on his record from the right, Ose has used his endorsements to burnish his Republican credentials. He received overwhelming support from the volunteer Republicans of River City, which pointed to Ose's votes to lower taxes, secure the borders and retain the phrase "under God" in the Pledge of Allegiance.
Ose, who has maintained ties to the moderate Republican Main Street Partnership, has always been the largest contributor to his campaigns. The multimillionaire developer said that frees him from becoming beholden to special-interest groups. "It was somewhat of a disappointment to the people on K Street," he said at a recent appearance, referring to the traditional base of lobbying in Washington.
"I readily acknowledge that my opponents have the support of D.C. special interests," Ose said. "I have the support of people who live here, and it's reflected in my disclosure reports, my endorsements and in everything about this campaign."
His endorsers include county supervisors Susan Peters, Roberta MacGlashan and Jimmie Yee, District Attorney Jan Scully, former county sheriffs Robbie Waters and Glen Craig, and 14 council members from Folsom, Citrus Heights, Rancho Cordova and Elk Grove.
Elk Grove Councilman Bob Trigg was vice principal of Rio Americano High School when Ose attended, then worked with the congressman when Trigg was superintendent of the Elk Grove school district. He said Ose has always said what he feels, but also is willing to listen.
"He has values and he follows those," Trigg said, noting his support for schools over the years. "He's kind and cares, but he's tough enough to do the job."
Folsom Councilman Steve Miklos, a retired paramedic and firefighter, compared Ose to a "bull in a china shop."
"I like that style because that's what this country needs," said Miklos, who worked with Ose on the Folsom dam and bridge. "Doug is accessible 110 percent of the time. He was constantly calling us, and he does that with all his constituents."
------ ___
BEFORE YOU GO
PHOTO GALLERY
Senate Seats Up For Grabs In 2014