Apparently, Selena Gomez can't wear a simple ring without the whole Internet thinking she's engaged.
When the 21-year-old took to the stage at the 2014 Kids' Choice Awards Saturday, March 29, to accept the orange blimp for Favorite Female Singer, bloggers zeroed in on a thin gold band around that finger on her left hand. Apparently, the jewelry was first spotted when she spoke at the We Day California event on March 27.
"The Gossip Table" co-host Rob Shuter claims the ring is from Justin Bieber.
"Everyone around her is terrified he might propose and they'll elope," a supposed insider said. "They feel like the world is against their relationship, like a modern day Romeo and Juliet. Who knows what they'll do, we'll just have to wait and see."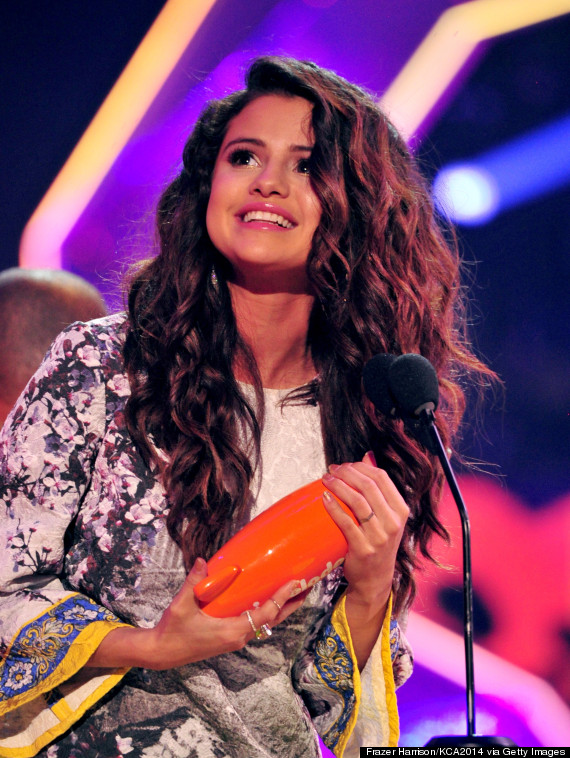 While it's highly unlikely the two will be eloping anytime soon, they may meet in court if Gomez has to testify in Bieber's paparazzo lawsuit. Gomez was served with legal papers in Los Angeles last week, according to E! News. Those papers reportedly relate to a lawsuit filed by photographer Jose Osmin Hernandez Duran against the "Boyfriend" singer last year.
Duran claims Bieber "delivered a martial arts-type kick" to his ribcage in May 2012 when he was trying to photograph Bieber and Gomez at The Commons shopping center in Calabasas, Calif. Gomez allegedly returned to the scene to get her beau's cellphone and apologize for his behavior.
A rep for Gomez was not immediately available for comment.
BEFORE YOU GO
PHOTO GALLERY
Selena Gomez Photos