Gwyneth Paltrow and Chris Martin's split may have shocked Hollywood, but the couple reportedly had an "open" marriage that was already on the rocks, according to People magazine.
"They have been on and off for many years. The marriage was falling apart," a close friend of the pair reportedly told People about the couple's 10-year union. "It caused both of them tremendous pain, and they tried to fix it day after day."
Before People's story was published, "Access Hollywood" also reported on the open relationship claims.
Another source said: "If Chris was playing around, Gwyneth didn't care. She's never been jealous or territorial. Her philosophy is, 'We're both adults. We make our own choices.'"
A representative for the actress was not immediately available for comment.
Cheating claims involving the A-list couple have surfaced in the past. Recently, the 41-year-old starlet was photographed being friendly with her ex-boyfriend, Donovan Leitch. She was also linked to billionaire Jeff Soffer and entertainment lawyer Kevin Yorn. Meanwhile, the Coldplay frontman has been accused of flings with Kate Bosworth and Alexa Chung.
Still, Paltrow once said cheating can be forgivable.
"I think that if the idea of being committed to someone is important to you, you begin to value certain parts of your social life over another. No couple is the same, and as such, every couple takes on different challenges," she told Refinery29 last year. "I would like to think that I would be forgiving and/or forgiven, but I can't give an honest answer as I haven't really experienced that."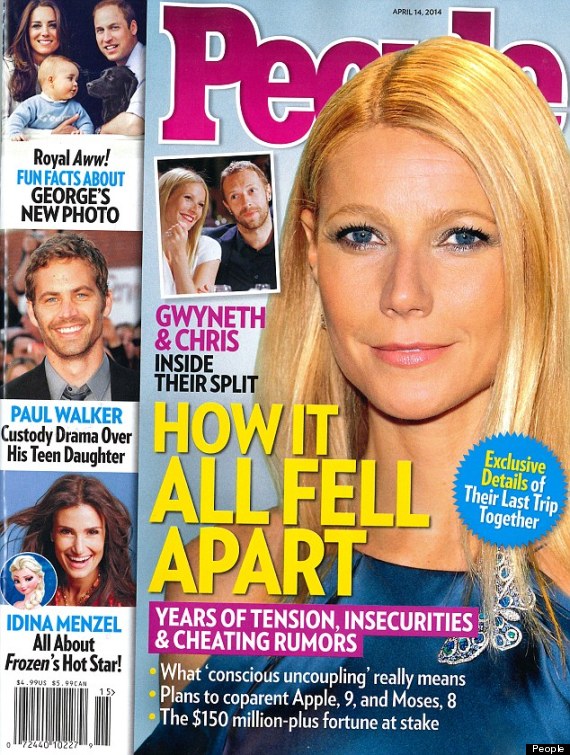 BEFORE YOU GO
PHOTO GALLERY
Celebrity Splits 2013