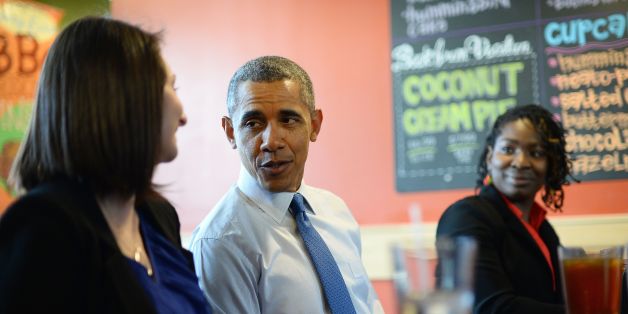 The president sure knows how to pick a lunch place.
President Barack Obama traveled to the University of Michigan in Ann Arbor Wednesday to speak about raising the federal minimum wage from $7.25 to $10.10 an hour. But first, he stopped at one of the city's (and Michigan's, and possibly the world's) best eateries: Zingerman's Deli, where the sandwiches are as good as the owner's thoughts on paying his workers.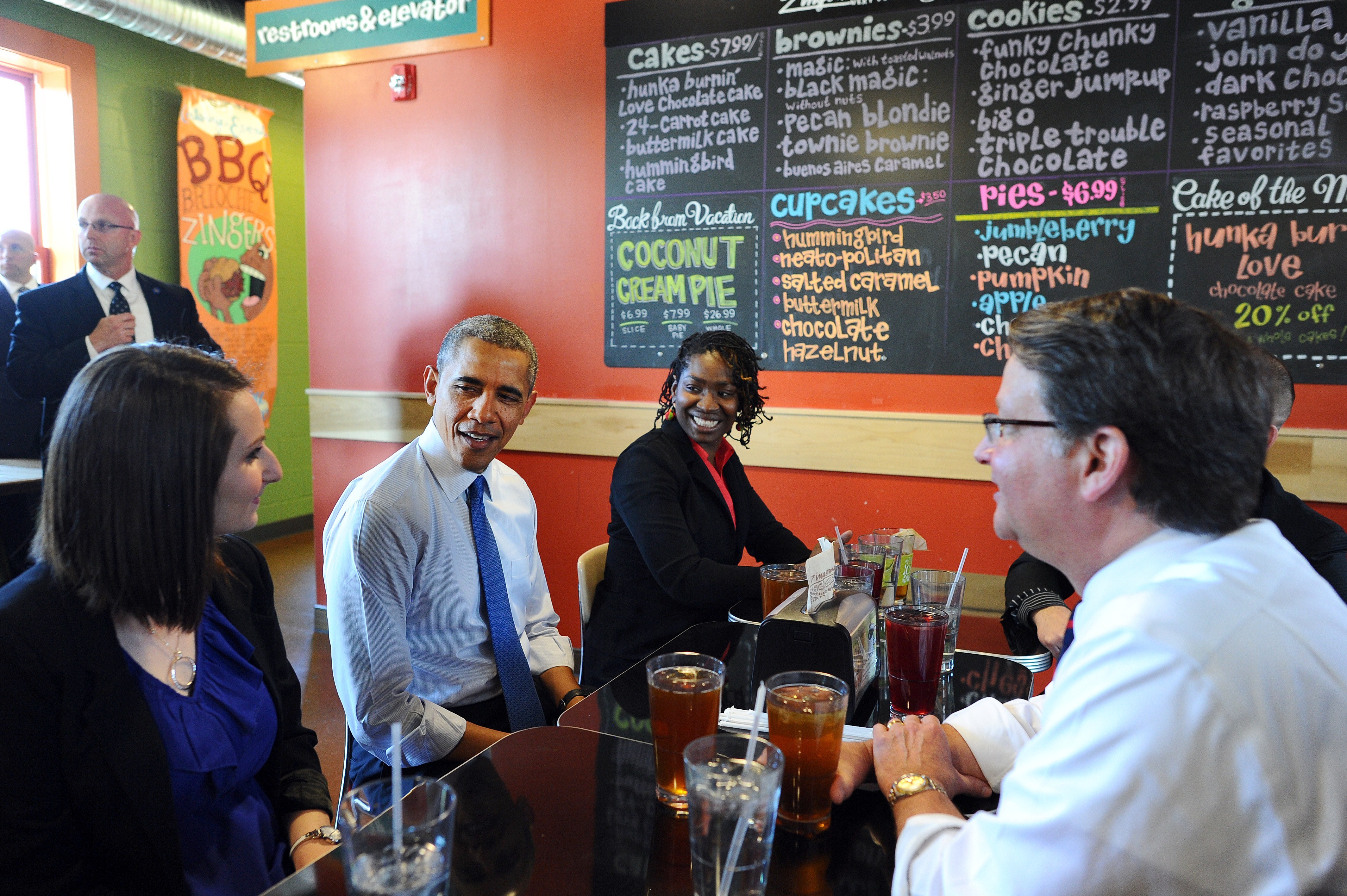 Jewel Samad/AFP/Getty Images.
Obama ordered the famed Reuben sandwich, but not without a bit of deliberation first.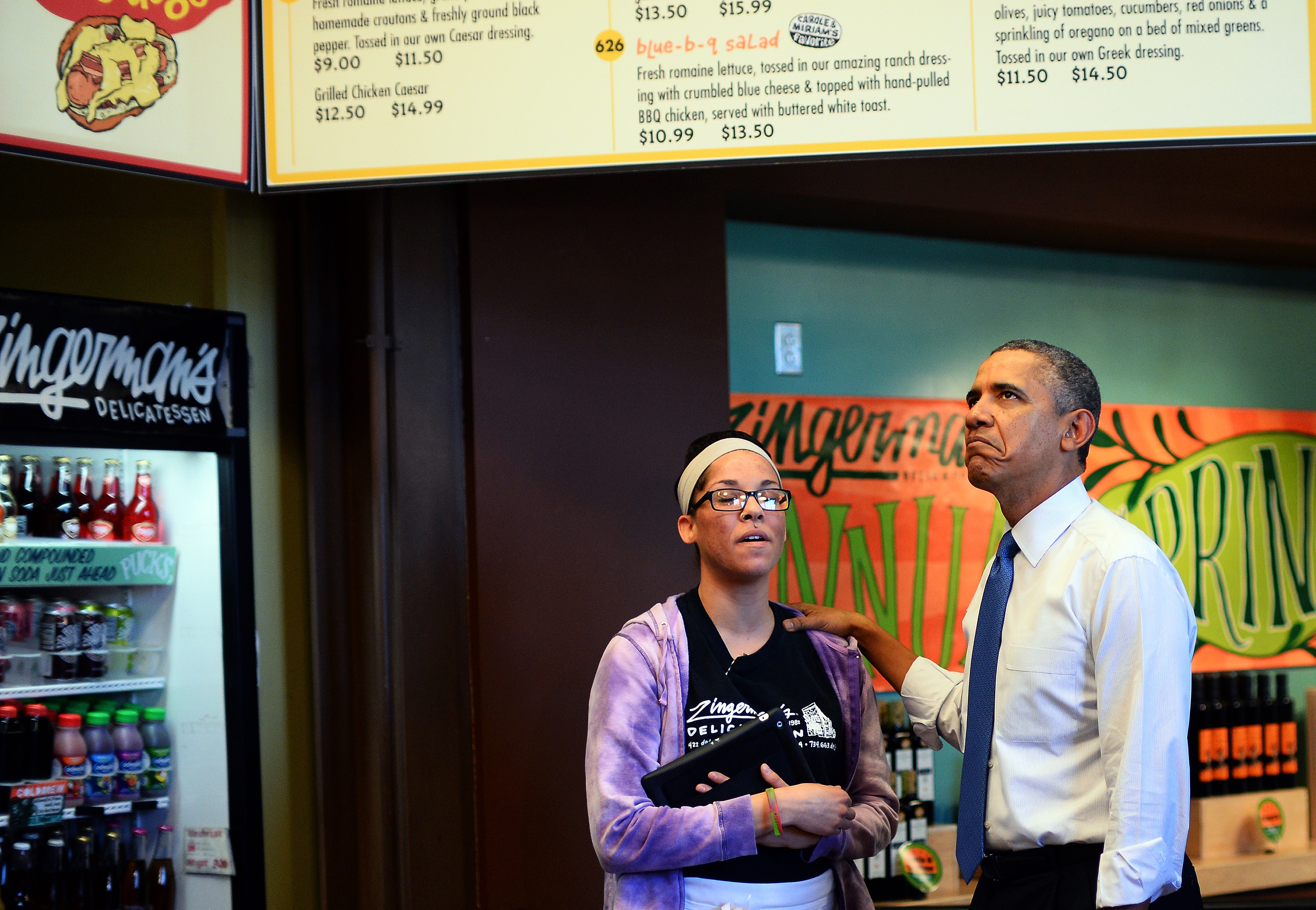 Jewel Samad/AFP/Getty Images.
We know, choosing just one is hard.
But it's not just their sandwiches that Zingerman's deserves credit for. During the meal, Obama met with three workers from different local eateries who are all pushing for a higher minimum wage in Michigan, according to the Detroit Free Press. Zingerman's owner Paul Saginaw pays workers at a higher rate than the state's $7.40 an hour minimum.
In an interview with Michigan Radio program Stateside, Saginaw explained why employers and customers alike should be concerned with workers receiving a living wage:
People are going in and they're asking about, 'Where did the chicken come from?' and 'Was the animal humanely raised?' Right? We're thinking about that a lot.

People are concerned about that and willing to pay more for that. How often do they go into the restaurant and say, 'Hey, how much are you paying your dishwashers? How are you treating them? Do they get paid time off when they're sick? Do they you provide health insurance for them?' I think it's time we started asking those questions.
Well said. Obama seemed to enjoy his meal:
President Obama just had lunch at @Zingermans to highlight how they pay their employees fair wages. #RaiseTheWage pic.twitter.com/xefL6Fd0dq

— The White House (@WhiteHouse) April 2, 2014
It's hard to get a good look at the Reuben itself, named one of the best sandwiches in the country by Food & Wine, in that photo. But behold, the Zingerman's #2 in all its glory:
"The reuben is killer," Obama said later in the day, according to WXYZ-TV.
U.S. Rep. Gary Peters (D-Mich.) ate lunch with Obama, supporting his efforts to raise the minimum wage. He ordered a reuben, too, and told Zingerman's employees, "the President's buying."
The deli, which also has an addictive bakery and cheese selection, has connected with the President before. MLive reports Zingerman's prepared a sandwich order for him in 2010. Maybe he was a fan of the limited-edition ice cream flavor they created in his honor: Baracky Road Gelato.
BEFORE YOU GO
PHOTO GALLERY
Obama Eating Shave Ice