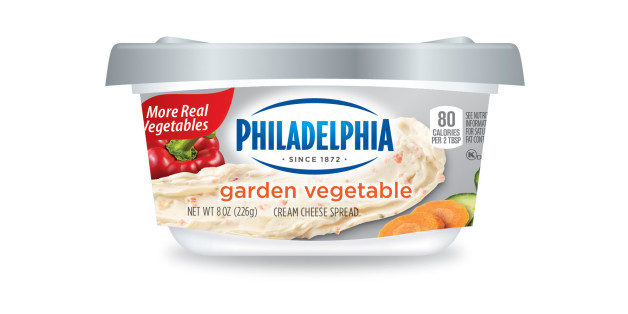 Philadelphia Cream Cheese Spread is trying to move its schmear a smidgen closer to the green slot on the food pyramid.
Kraft Foods Group Inc. has retooled the packaging on the iconic cheese product, swapping the round, gray containers for oblong tubs designed to promote newly added natural ingredients.
This marks the third revamp in four years of the brand's marketing strategy, after previous efforts touted cream cheese's use as a cooking ingredient and an old-timey food tradition. But, for the first since Philadelphia's whipped cream cheese spread hit the market in 1982, Kraft has made major changes to the recipe in an attempt to woo health-conscious shoppers, The Wall Street Journal reported on Tuesday.
Now, existing fruit and vegetable flavors are seeing a significant increase in ingredients like berries, carrots and peppers.
Americans have shied away from fat, cholesterol and sugar in recent years, and breakfast foods are seeing some of the biggest changes. Consumption of eggs has sunk nearly 70 percent since its peak in 1945 as dieters feared cholesterol in yolks. Even orange juice, once a staple praised for its rich vitamin C content, is losing its place at the breakfast table as Americans cut out sugar – and sometimes breakfast altogether.
And even when spreading a fatty dairy product on a baked circle of carb-loaded dough, consumers want "healthful" options.
That's where Philadelphia, a $500 million brand, comes in.
Scientists at Kraft have removed artificial flavors from all but two of Philadelphia's spreads, chocolate varieties, corporate spokeswoman Jody Moore told The Huffington Post. The company also wants to find a natural color alternative for the strawberry and salmon flavors, she said.
"It was really all done to consumer tastes," Moore said of the revamp in a phone interview. "We did a lot of research."
Kraft has also added more produce flavors: Forty-four percent more chives and onions now go into that flavor, and 30 percent more blueberries go into a container of that flavor.
But since the changes were based on what consumers really wanted, Kraft added just 12 percent more "garden vegetables" to that eponymous flavor.
"When they added too much vegetables to the cream cheese it almost created a chunky peanut butter-like texture," Moore said. "People still want it to taste like cream cheese."
Correction: A previous version of this story implied that Philadelphia's salmon and strawberry cream cheese flavors used artificial flavors. It is two chocolate varieties of the cream cheese.