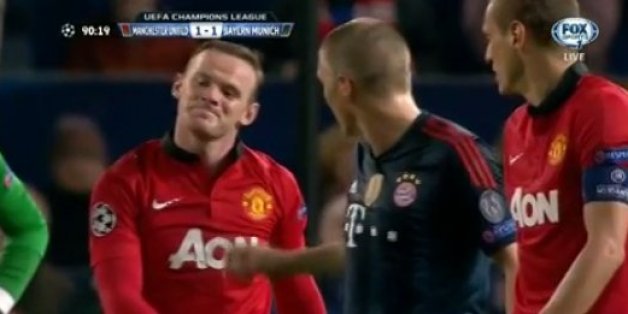 Wayne Rooney seemed to know what he was doing. Bastian Schweinsteiger seemed to know exactly what Rooney had done. The former had gained a clear advantage but neither player seemed especially pleased by what had happened.
With Rooney's Manchester United level, 1-1, with Schweinsteiger's Bayern Munich in the closing minutes of the opening leg of a Champions League quarterfinal matchup at Old Trafford, the pair was involved in a controversial clash that could play a major role in determining which side reaches the semifinal. In the 91st minute, Schweinsteiger made a rash sliding challenge against Rooney as he dribbled the ball. The England striker, seemingly well aware of his opponent's attempted tackle, leapt over the oncoming German midfielder.

(GIF via SB Nation)
The players didn't seem to make contact but Rooney made the most of the moment and Schweinsteiger was shown his second yellow card of the match. Schweinsteiger popped back to his feet to scold Rooney before being forced off the field. Not exactly acting like someone who was just on the receiving end of an egregiously dangerous play, Rooney seemed more bashful than angry in his reaction to Schweinsteiger.
(Vine via
cjzero
)
From the touchline, Bayern Munich manager Pep Guardiola signaled that he believed Rooney had taken a dive on the play.
(Vine via
Dracula
)
Manchester United could not capitalize on its man advantage over the final minutes as the opening leg of the Champions League quarterfinal pairing ended 1-1 at Old Trafford.
"I spoke with the referee," Guardiola said after the match, via The Guardian. "He's a very good referee. He made a very, very good game but it's unfair [this red card]. But it's OK. If you want to win the Champions League you have to solve and overcome everything during the competition. I gave my opinion to the referee, that's all."