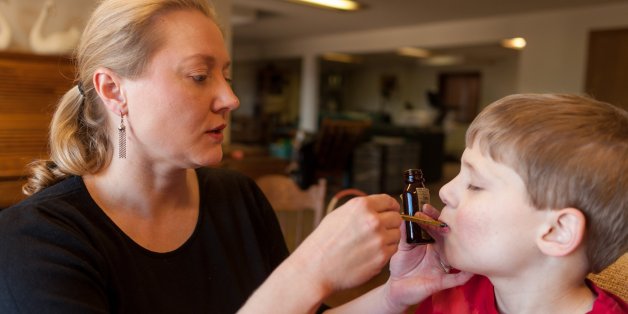 Illinois lawmakers advanced a bill Wednesday that would qualify minors with epilepsy to be treated with medical marijuana.
The proposal, sponsored by Sen. Iris Martinez (D-Chicago), cleared the state Senate in a 49-5 vote, the Associated Press reports.
Currently, only patients older than 18 and suffering from at least one of 40 debilitating conditions qualify for the state's medical marijuana registry.
Martinez's bill would allow epileptic minors to be treated with the marijuana derivative known as Cannabidiol (CBD) oil. The oil, which is usually administered to minors via drops under the tongue, has low levels of THC, the compound that produces a high.
Martinez has said she was spurred to support the bill after Chicago-area mothers like Nicole Gross wrote to her, explaining their plight. To treat her young son Chase, Gross is among a growing number of families who have moved to Colorado -- where CBD oil is legal for minors -- to secure the potentially life-saving treatment for their kids.
Sen. Dan Kotowski (D-Park Ridge), who voted in support of the bill, told his Senate colleagues he grew up with epilepsy, the Sun-Times reports.
"They never told me you could die when you have a seizure," Kotwoski said. "It's a difficult circumstance because you completely lose control. When you wake up, you don't know where you are; you can't speak. It's kind of like a stroke."
Sen. Bill Brady (R-Bloomington) was among the handful of dissenters who called the choice hard because "children are struggling," the Chicago Tribune reports. Nonetheless, Brady told colleagues, "I have concerns about medical marijuana in general."
Sen. Mike Jacobs (D-East Moline) urged lawmakers to focus on the fact that medical marijuana is effective at reducing seizures.
"God grows this drug," Jacobs said, according to the Sun-Times. "It grows from a seed, like corn. I look forward the day in my community where we can not only harvest it but build machines to harvest it."
The bill now moves to the Illinois House for consideration.
BEFORE YOU GO
PHOTO GALLERY
Medical Marijuana Users Share Secrets