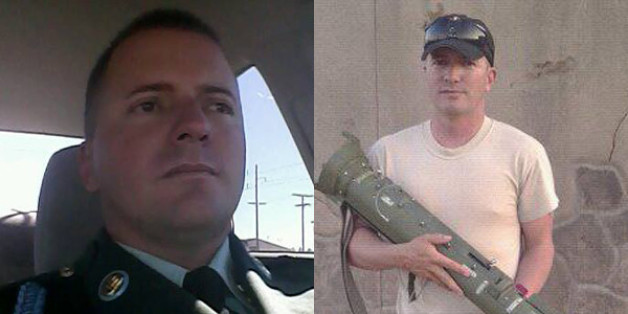 An initial portrait of Ivan Lopez, the Iraq War veteran allegedly responsible for the mass shooting Wednesday afternoon at Fort Hood, is slowly emerging.
Texas Rep. Michael McCaul, chairman of the House Homeland Security Committee, identified Lopez, 34, as the alleged shooter following the incident. According to military officials, Lopez was a specialist assigned to the 13th Sustainment Command, a logistics and support unit at Fort Hood.
During a Thursday Senate Armed Services Committee meeting, Army Secretary John McHugh said Lopez, a native of Puerto Rico, joined the Army in June 2008. Previously, the soldier served with the Puerto Rico National Guard.
USA Today reports that, according to Army Secretary John McHugh, the soldier saw a psychologist last month and was given Ambien for a sleeping problem.
Lopez, his wife and their young child moved to the Killeen area, where Fort Hood is located, in February. Prior to the move, the family lived at another Texas military base, authorities said. The Quail Circle apartment Lopez lived in is approximately two miles from the military post, where authorities say he gunned down three people and wounded 16 others before committing suicide.
Authorities said the shooting spree began at approximately 4 p.m., Wednesday, in a medical brigade building. The gunman shot several soldiers there before targeting additional military personnel in another building. The shooting spree ended after roughly 15 minutes when a female military police officer confronted the shooter, prompting him to turn his .45 caliber Smith & Wesson pistol on himself, military officials said.
Fort Hood is the site of the worst ever mass killing at an American military installation.
In November 2009, Nidal Malik Hasan, a U.S. Army major and psychiatrist, fatally shot 13 people and injured more than 30 others at the base before he was shot and taken into custody. Hasan, who is paralyzed from the waist down as a result of his injuries, was later found guilty of 13 counts of premeditated murder. He was sentenced to death.
"Obviously this reopens the pain of what happened at Fort Hood five years ago," President Barack Obama said in a Wednesday evening press briefing. "We are heartbroken that something like this might have happened again. I just hope everyone across the country is keeping the families and the Fort Hood community in our thoughts and our prayers."
A motive in Wednesday's shooting is not yet known, according to Lt. Gen. Mark Milley. Authorities have found no terrorist affiliations and suspect the shooter acted alone.
"We do know that this soldier had behavioral health and mental health issues and was being treated for that," Milley said at a Wednesday evening press conference.
The alleged shooter served a four-month tour of duty in Iraq in 2011, and had recently "self-reported a traumatic brain injury," Milley added.
McHugh said despite possible mental heath issues, Lopez had displayed "no sign of any likely violence either to himself or others."
According to Milley, the gunman, who was in uniform at the time of the shooting, "was not authorized to carry a concealed weapon."
A local woman, who identified herself as a neighbor, told the Times that she did not notice anything out of the ordinary when the Lopez family moved into the neighborhood last month.
"He was always smiling whenever I'd see him," Xanderia Morris told the Los Angeles Times. "The wife, she was really nice too, but she didn't speak much English."
As updates continue to trickle in, the Associated Press reports that authorities are still in the process of questioning witnesses and searching the Lopez home for computers and anything else that might shed light on a possible motive.
04/04/2014 1:58 PM EDT
Father Of Fort Hood Gunman: He 'Must Not Have Been in His Right Mind'
NBC has released a statement from the family of the alleged Fort Hood shooter, Spc. Ivan Lopez.
Facing the tragedy that occurred on April 2 in Fort Hood, TX, the family of the Puerto Rican soldier Iván López is concerned and asks for prayers for those affected and deceased by the unfortunate incidents. Iván López, father of the soldier, is still in shock and described his son as a calm family man, a young worker who always looked out for the well being of his home and a good son.

"This situation has caused great pain. I ask for prayers for the affected families, even more so when there is still an ongoing investigation. My son must not have been in his right mind, he wasn't like that," said Iván López, Sr.

As an active soldier he defended the nation and received medals. He also worked honorably as a policeman on the island. According to his father, the soldier was under medical treatment and the passing of his mother, his grandfather and the recent changes when transferring to the base surely affected his existing condition because of his experiences as a soldier. No more comments shall be made during the investigation conducted by authorities.
BEFORE YOU GO