Millions of Afghans have braved hours-long lines and militant threats to sign up to vote in the April 5 election. Since current President Hamid Karzai is barred from running, the vote marks the first democratic transfer of power in the country's history. And yet, while a historic moment, Saturday's vote also serves as a somber reminder that in a country continuously torn by decades of conflict, past elections have not fulfilled their promise of hope, empowerment and change.
Afghanistan is set to elect new national and provincial leaders, as well as a new president. Eight candidates are vying for the highest office. The three front-runners are former World Bank official Ashraf Ghani and former foreign ministers Abdullah Abdullah and Zalmay Rassoul.
But a host of issues, such as an extremist campaign against the election as well as a long history of vote-rigging, raise doubts about the credibility of the ballot. Here are six things we'll be watching on Saturday.
1. THE TALIBAN WAR ON ELECTIONS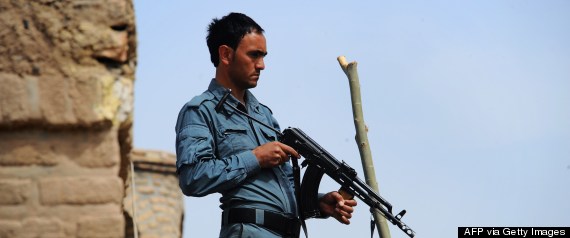 On March 21, gunmen burst into the upscale Serena hotel in Kabul, killing nine. Days later, militants attacked the offices of a Christian organization in the capital. On April 2, a suicide bomber struck again at Afghanistan's Interior Ministry, killing six police officers.
Those are just a few of countless incidents in a brutal militant campaign to sow chaos ahead of Saturday's vote. The Taliban have vowed to do anything in their power to disturb the democratic process and have reinforced the point with ruthless violence.
Warning that election workers and polling centers will be targeted on April 5, the radicals have attacked campaigns and election institutions, as well as foreigners across the country. The recent assaults have discouraged international workers from attending the vote and have raised doubts about the thinly-stretched Afghan security forces' ability to guarantee the safety of voters on election day. One week ahead of the vote, election authorities declared 3,145 of the country's 6,000 polling stations unsafe.
2. A LONG HISTORY OF VOTE-RIGGING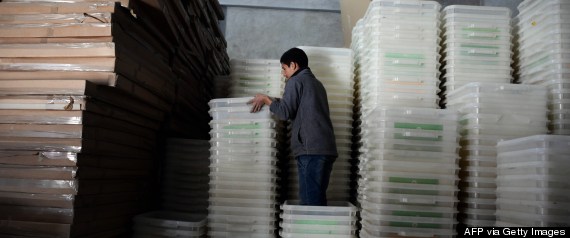 An Afghan election worker sorts empty ballot boxes for distribution before election material kits were sent to different polling stations on April 1. (FARSHAD USYAN/AFP/Getty Images)
Afghanistan's last presidential election in 2009 was marred by vote-rigging and fraud. More than a million ballots were disqualified in the wake of the vote, many in favor of Karzai, the current president.
Authorities have vowed that this year's election process won't show the same disruptions, introducing several measures to increase accountability, improve counting and trace ballots more accurately. However, as Martine Van Bijlert, co-directer of the Afghanistan Analyst network, explains in a blog for the Council on Foreign Relations: the odds don't favor clean elections. "The political stakes are high, institutions are both partial and divided, and campaigns have co-opted electoral staff. Insecurity facilitates gross interference in large parts of the country, and the excessive distribution of voter cards (twenty-one million cards have been distributed for about thirteen million eligible voters) encourages fraud," she writes.
Afghans themselves show very little confidence in the possibility of truly fair elections. According to a Gallup poll, 70 percent of Afghans have no confidence in the electoral system.
3. A 200 PERCENT TURNOUT? Supporters of Afghan presidential candidate Abdullah Abdullah listen to his speech in Herat, Afghanistan, on April 1. (AP Photo/Hoshang Hashimi)
Afghans have lined up en masse in recent days to obtain voter registration cards. According to the country's Independent Election Commission, at least 3.8 million new voters have registered since last year, and numbers are expected to rise above 4 million. And while that large turnout is sparking a lot of optimism, it is also a cause for concern; determining how many people voted is crucial to assessing the fairness of Afghanistan's election.
Matthieu Aikins explains for the Afghanistan Analyst Network that while Afghanistan has no recent census or voter rolls, the number of eligible voters is estimated at 10 to 12 million. However, authorities have issued about 21 million legal voting cards. That means that if each and every one of those is used, the country will see a 200 percent voter turnout.
4. WHERE DID THE MONITORS GO? Supporters of Afghanistan's presidential candidate and former foreign minister Zalmai Rassoul, listen to his speech during a campaign rally on March 28. (AP Photo/Massoud Hossaini)
Nearly 6,000 Afghan observers and 1,500 international monitors were scheduled to attend Afghanistan's vote. However, after attacks on the offices of election-related organizations and the seemingly random killings of foreigners, several international organizations have felt forced to shut their offices and numerous international observers have left the country.
As Ahmad Nader Nadery, the chairman of the Free and Fair Election Foundation of Afghanistan, explained to The New York Times, the absence of a large contingent of international observers may discredit the election. In addition, concerns over the fairness of the vote may imperil foreign aid to the country in the future, as many donors consider a free vote a minimum requirement for international support.
5. A CRUCIAL VOTE FOR WOMEN A child pulls a rope which keeps Afghan women in line to get their registration card on the last day of voter registration for the upcoming presidential elections, on April 1. (AP Photo/Anja Niedringhaus)
Afghanistan's 2014 election is by many standards a landmark event for women in the country. Three female candidates are vying for the post of vice president, and at least 300 are running for provincial council seats -- more than ever before. All three front-runners for the presidency have promised to protect women's rights.
However, activists warn that the country has a long way to go. The female candidates have been disproportionally targeted by militants in the months leading up to the vote. Habiba Sarabi, the governor of Bamiyan and a vice-presidential candidate who is running with presidential candidate Zalmai Rassoul, told Pakistan's The Nation that the death threats she has received are too numerous to count.
And while Afghan women were first granted the right to vote after the fall of the Taliban, in practice they have often been prevented from doing so in conservative districts. Women's-rights workers point out that few women in the rural areas in the south, where life is heavily gender-segregated, are expected to head to the polls. In addition, militants have threatened to target women who take part in the voting. While the Afghan security forces have recruited hundreds of female officers to provide security for women in segregated polling stations, officials have calculated that nearly 12,000 new recruits are necessary to provide security for women on April 5.
6. A BLOODY PAST Hamid Karzai listens to questions from journalists on March 20, 2002, as northern warlord Gen. Abdul Rashid Dostum, left, looks on. (AP Photo/Alexander Zemlianichenko)
As The New York Times notes, of the eight presidential hopefuls and their running partners, several tickets carry candidates accused of being warlords.
Take Gen. Abdul Rashid Dostum, the running mate of presidential front-runner Ashraf Ghani, for example. Dostum was a key player in Afghanistan's civil war and returned to the country from Turkey in 2009 to support the Karzai administration. The warlord and his men have been blamed for the deaths of 2,000 suspected Taliban and al-Qaeda militants in 2001, when the warlord lent his services to U.S. forces in Afghanistan. Dostum issued a public apology ahead of the vote to "all who have suffered on both sides of the wars." He even called upon other candidates to follow suit.
And then there's presidential candidate Abdul Rasul Sayyaf, an Islamic scholar and warlord once considered a patron of Osama bin Laden, Khalid Sheikh Mohammed and Ramzi Yousef.
The warlords command vast sums of money, can guarantee decisive voter blocks and often have private security forces at their disposal, making them attractive running mates. Yet as Ron Moreau argues in the Daily Beast, "Their return to prominence is a disturbing sign of how little things have changed over the past 12 years since the U.S. invaded Afghanistan, ousted the Taliban and tried (so far, unsuccessfully) to graft a multi-party democratic system onto this traditional, tribal society."