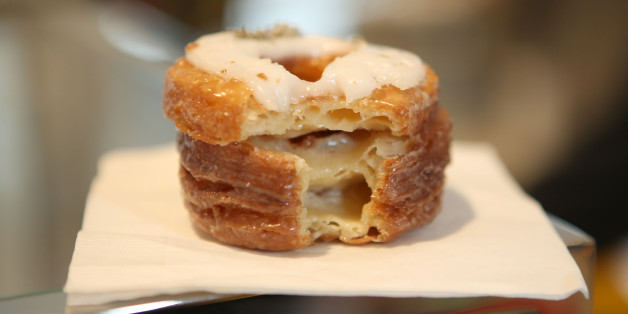 UPDATE: April 8 -- Dominique Ansel Bakery reopened Tuesday morning, and workers were greeted by long lines of eager customers. Chef Ansel debuted a special Cronut called "Rocky" to mark the occasion.
Previously:
Those waiting to get their hands on the coveted Cronut will have to put their cravings on hold for a bit.
On Friday, New York City's Department of Health shut down Dominique Ansel Bakery, which invented the croissant-doughnut hybrid, due to a mouse infestation. The devastating news comes a day after a customer filmed a mouse scurrying across the bakery floor and posted the video to YouTube.
"The establishment was closed by the Department because of a severe mouse infestation that requires professional pest control services," a representative for the Department of Health told Gothamist.
(Story continues below)
In the wake of the closure, a bakery rep told WNBC-TV: "As a small one-shop bakery, we often feel like we're being looked at under a tremendous microscope. The news was dramatically sensationalized. A lot of time people don't see the larger ramifications of their actions and how a tiny video of a mouse running across the screen for 3 seconds can cause harm and damages to an honest, small business that people's livelihood depends on."
The closure is only temporary, though. "We were asked to re-cement the floors and that will take about 2 days. We hope to open by mid-day Monday and will of course do everything that the DOH required of us," Amy Ma, a rep for the bakery, told The Huffington Post via email.
In the interim, here's how you can make your own version of the Cronut at home.
BEFORE YOU GO
PHOTO GALLERY
Cronut Craze Takes NYC