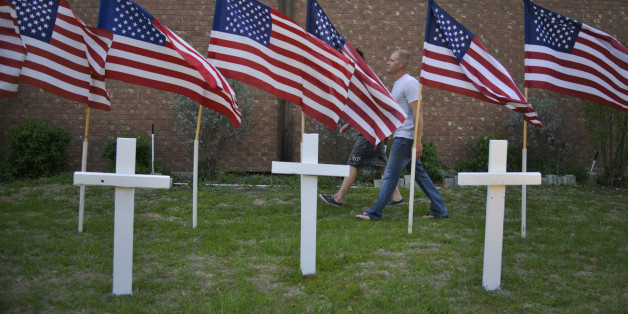 As investigations into Wednesday's Fort Hood shooting continue to unfold, officials have asked supporters to donate what they can to help the victims' families.
Three people were killed and 16 were injured after Ivan Lopez, 34, opened fire at the Fort Hood Army base in Texas on Wednesday afternoon. The names of the three fatalities have been released -- Army Sgt. Timothy Owens, 37; Sgt. 1st Class Danny Ferguson, 39; and Carlos Lazaney, 38, according to Reuters.
To help the grieving families, and the injured, Fort Hood put a call out on Twitter and Facebook asking supporters to give what they can at two designated locations.
The Fort Hood Association of the United States Army is accepting monetary donations. Checks can be sent to Central Texas-Fort Hood Chapter, AUSA
P.O. Box 10700 Killeen, Texas 76513.
Donations are also being accepted at the Directorate of Family, Morale, Welfare and Recreation. The Fort Hood military base noted that gift cards and monetary contributions meet the largest need at this time. Donations can be sent to Directorate of Family, Morale, Welfare and Recreation P.O. Box X Fort Hood, Texas 76544.
"I'd also like to thank the outpouring of support from the Central Texas community and from the entire state of Texas, and from all of our national leadership within the military and our civilian leadership on the national level," Lt. Gen. Mark Milley, the base commander, said at a press conference on Thursday. "Everyone is chipping in trying to assist in any way they can."