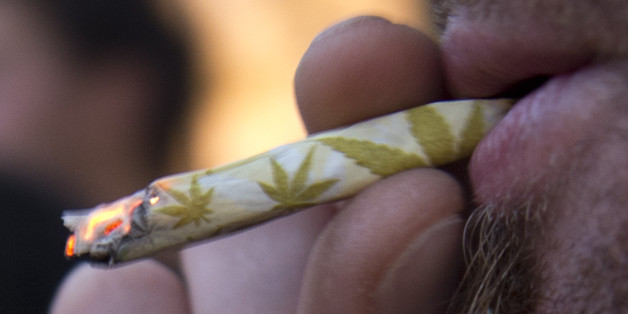 Efforts toward legalizing marijuana in Illinois, where a medical marijuana pilot program was approved last year, could be on the verge of another big step forward.
A vote by the full state House of Representatives on a proposal that would decriminalize the possession of small amounts of marijuana could come soon, ABC Chicago reported Thursday.
The proposal -- which would mandate that the possession of 30 grams or less of marijuana be punishable only by a maximum $100 fine, rather than an arrest -- was already approved by the House Restorative Justice Committee by a vote of 5-to-2 in Springfield last month. The bill's co-chief sponsors are state Reps. Kelly Cassidy and La Shawn Ford, both Chicago Democrats.
On the heels of the committee vote, pro-legalization group the Marijuana Policy Project released the results of a Public Policy Polling survey that reported 63 percent of Illinois voters who took part in the poll -- including 56 percent of Republican respondents -- support the bill.
The legislation would create a new class of offense called a "regulatory offense" for Illinoisans caught with 30 grams of marijuana or less. Once a ticketed individual pays their fine, the offense would be erased from their record in a move the Marijuana Policy Project argues would help them avoid losing employment, educational or housing opportunities.
"Illinoisans are tired of seeing their tax dollars and limited law enforcement resources wasted on arresting and prosecuting marijuana users," Chris Lindsey, legislative analyst for the Marijuana Policy Project, said in a statement. "Lawmakers have a chance to do the right thing by listening to their constituents and supporting this sensible legislation."
Another supporter of the bill, Roosevelt University drug policy researcher Kathie Kane-Willis, pointed out at a Thursday press conference that 80 percent of misdemeanor marijuana possession arrests in Cook County fail to lead to convictions, CBS Chicago reports.
Peter Bensinger, former administrator of the Drug Enforcement Agency, is among the critics of the bill, telling ABC, "Taking away a penalty, taking away a sanction is like removing a speed limit on a highway."
The Cook County State's Attorney's office is also on the record in opposition to the bill because it allows for an unlimited number of "regulatory offenses," DNAinfo Chicago reports.
Illinois' four-year medical marijuana program has been described as the nation's strictest of its kind and has been criticized ahead of full implementation for draft rules some say are too onerous. Those who potentially qualify to participate in the program cannot begin the application process until September, after details of the program are ironed out.
Meanwhile, a proposal to expand the marijuana program to minors with epilepsy was approved by the state Senate on Wednesday. The full Illinois House will next consider the bill.
BEFORE YOU GO
PHOTO GALLERY
14 Reasons Why Marijuana Is Good For The Economy