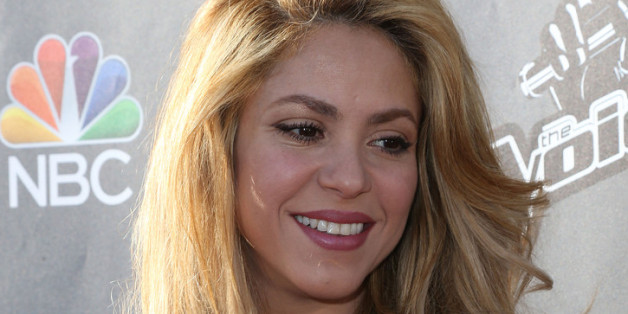 It's no April Fool's but the joke is on you, Shakira fans.
The Colombian star posted a message on her social media accounts on Thursday explaining that comments she'd made recently concerning her "territorial" boyfriend Gerard Piqué were intended to be humorous, and not actually true.

Shak, who was recently revealed to have the "most-Liked" page on Facebook, posted and tweeted her statement in English and Spanish.
— Shakira (@shakira) April 3, 2014
"The Voice" coach first joked about the Barcelona soccer star not allowing her to make music videos with men in late February, after her steamy video with Rihanna for her single "Can't Remember To Forget You" came under fire from a Colombian councilman for promoting "lesbianism."
"Since [Piqué] doesn't let me do videos with men anymore, I have to make them with women," the star teased at a press conference for the inauguration of her foundation's new school in Cartagena.
As part of the promotional campaign for her new self-titled album, Shakira appeared on the cover of Billboard's March issue and once again touched upon the subject in more detail during the interview with the magazine.
"It's more than implied in our relationship that I can't do videos like I used to," the singer told Billboard. "It's out of the question - which I like, by the way. I like that he protects his turf and he values me, in a way that the only person that he would ever let graze my thigh would be Rihanna."
In an on-camera interview with Univision's El Gordo y La Flaca, Shak laughed and smiled as she said "it's true, I can't put a man in the video" and demonstrated how Piqué had reacted after seeing the comments.
"Gerard told me, 'next time close that little mouth of yours, ok?'" Shakira laughed as she mimicked her boyfriend's reaction.
BEFORE YOU GO
PHOTO GALLERY
Shakira: Style Evolution