When you think about Atlanta, the first thing that probably comes to mind is a flashback to those Bravo commercials you've seen with The Real Housewives. But forget NeNe and Kandi -- Atlanta is much more than fake-brawling and McMansion suburbs. This city is one of the most amazing cities in America, and these are the reasons why:
1. The tourist "traps" are actually awesome.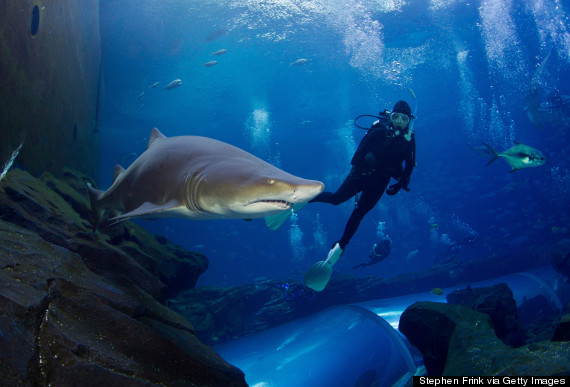 Every city has big attractions, but Atlanta's are pretty hard to beat. The city has one of the world's largest aquariums, with over 60 exhibits and an astounding 10 million gallons of water. Something else unique to the aquarium? Swimming with whale sharks. Don't worry, it's safe.
2. Atlanta is home to every kind of Coke. If your city is going to have a permanent sugary exhibit, it better be the World of Coca-Cola. Our favorite activities? Attempting to break into the secret vault to steal the formula and trying all of the Cokes from around the world.
3. Fox Theatre reigns supreme.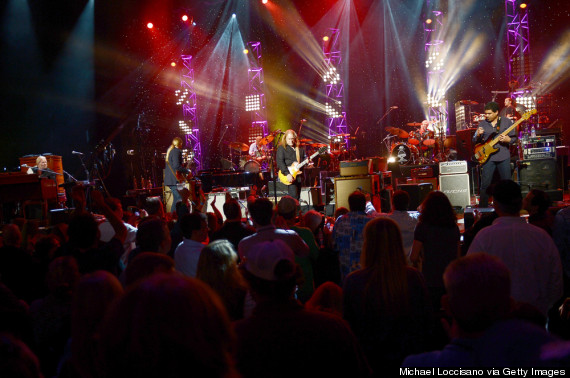 Once you've been kicked out of the World of Coca-Cola for trying to steal all its secrets, head on down to the iconic Fox Theatre for some high-brow art. The Fox was built to look like an ancient temple from the Far East, and it cost $3 million dollars (the equivalent of $40 million dollars today) when it was built in 1929. Originally intended for moviegoers and later made into a dance hall, today, the Fabulous Fox hosts over 250 shows a year. For other amazing Atlanta experiences, also make sure to check out both the High Museum of Art and the Atlanta Symphony Orchestra.
4. Atlanta's most famous restaurant is older than "Gone With The Wind."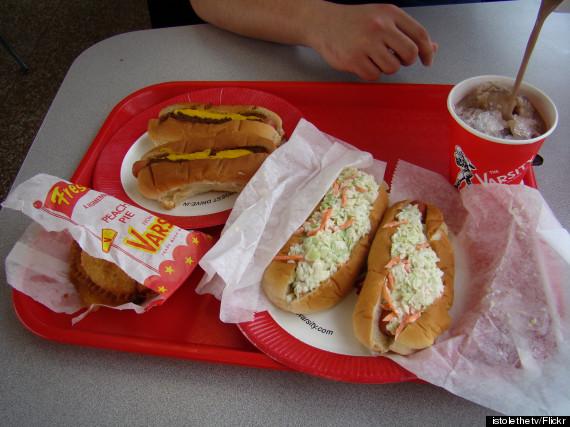 The Varsity is not only the world's largest drive-in, but it's also arguably Atlanta's most famous restaurant. Most days, the restaurant claims to go through an estimated two miles of hot dogs, 2,500 pounds of potatoes and 300 gallons of chili. In ONE DAY. Those figures are still relatively slow compared to Georgia Tech game days, when The Varsity is visited by an estimated 30,000 people. Another fun fact? The Varsity's been around longer than the famous Atlanta novel, "Gone With The Wind."
5. You're either in, or you're out.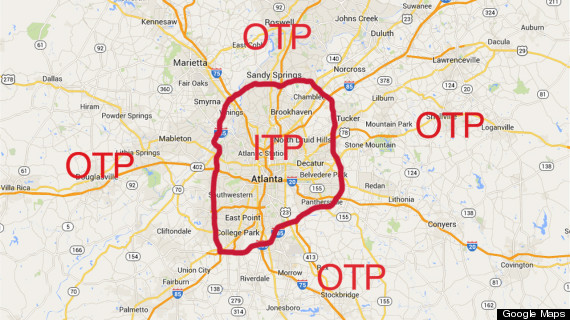 In Atlanta, you don't give directions or ask people where they live by referencing "uptown" or "downtown." In this city, the only thing that's relevant is whether you're inside the perimeter (ITP) or outside the perimeter (OTP). The perimeter is defined by I-285, which forms a ring around the city.
6. They LOVE their peaches.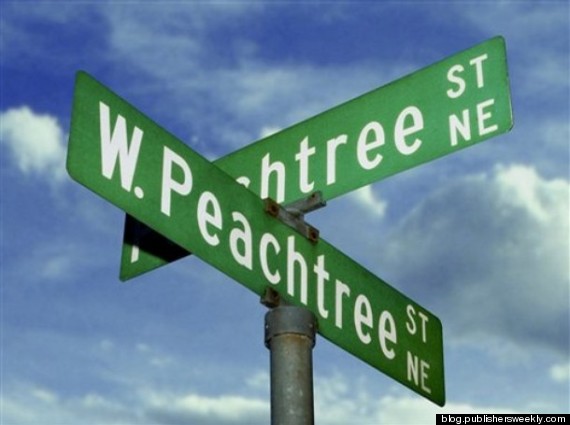 Especially when it comes to naming streets. Every single street has the same name: Peachtree. Every. Single. Street. (Depending on who you ask, there's at least 65 or so).
7. Breakfast. Breakfast ALWAYS wins.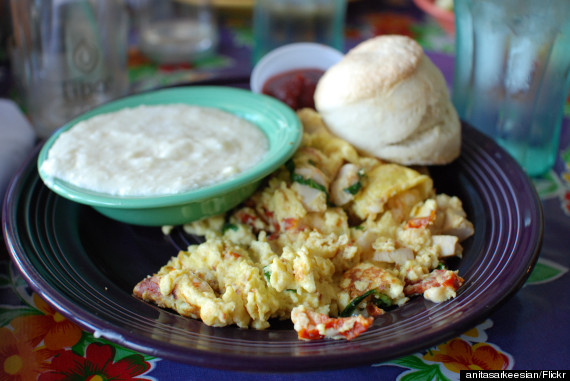 Other cities may love their breakfast food, but nothing compares to Atlanta. Atlanta has EIGHT out of the "21 Most Popular Waffle Houses" in the nation. And while waffles are taken seriously, biscuits are a close second. If you're not parked at a Waffle House, then you're definitely at The Flying Biscuit.
8. Street art is allowed, and even encouraged.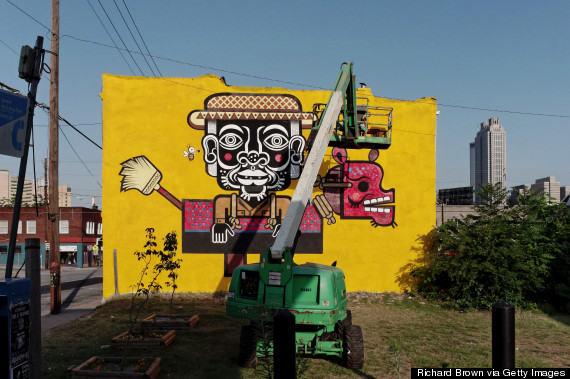 But really only when you're an artist invited to participate in Atlanta's "Living Walls, The City Speaks" Conference. Last year, the conference got well-known street artists from all around Atlanta (and the world) to work on building "a platform for a much needed dialogue in the city." What better way to do that than turn the streets into an open-access museum?
9. Samuel L. Jackson is the face of the Falcons.
Founded in 1966, the Atlanta Falcons are the city's resident NFL team. Thirty-two cities have NFL teams, but only one has Samuel freakin' Jackson as the face of the franchise. What do Falcons do? RISE UP.
10. A crucial part of American history still lives on here every day.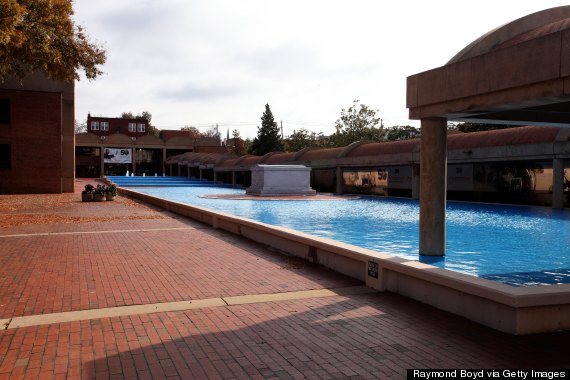 Martin Luther King, Jr. was born and raised in Atlanta, attending Atlanta's prestigious Morehouse College and pastoring along with his father at the city's Ebenezer Baptist Church. Today, his legacy lives on at The Martin Luther King, Jr. Center for Nonviolent Social Change, aka The King Center, a "living memorial" with extensive digital archives viewed by almost a million people each year. His legacy -- and what we can learn from it -- is an integral part of Atlanta's identity.
11. Sweet tea is a way of life.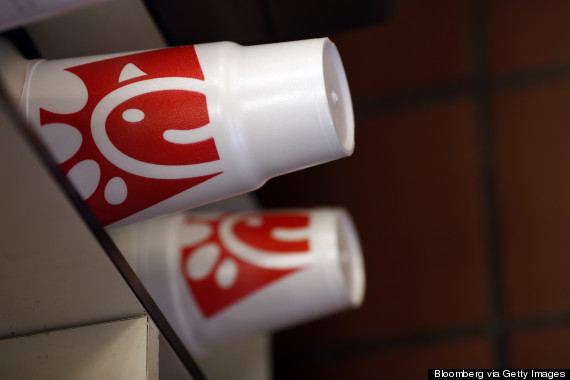 You can always tell who's from the North by what sort of tea they order. If you're looking for unsweetened tea, you'll just get sideways sympathy glances from Atlanta folk. The best place to get it? Chick-fil-A. When you've got the headquarters here, it's even harder to say no! We're no fan of their politics, but nothing beats sweet tea and waffle fries.
12. A strip club is (almost) a national landmark.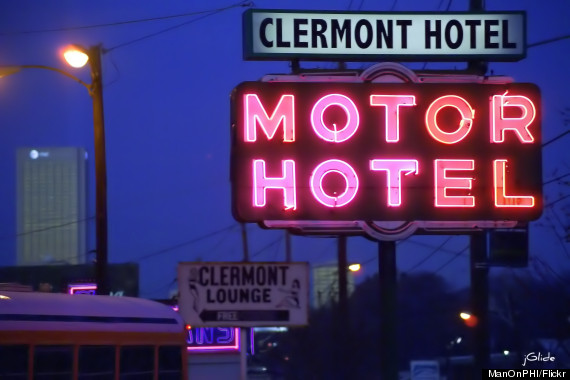 Ah, Anthony Bourdain. He visited Atlanta and decided that The Clermont Lounge should be a national landmark. The Lounge is a unique place -- it's Atlanta's oldest operating strip club, and it has entertained a variety of celebs passing through the city. Blondie is the club's most famous employee, and she's known for both writing poetry and crushing beer cans between her breasts. She once even kicked Mumford & Sons out for violating her most important rule: no photos.
13. The city is a hip-hop mecca.
Outkast, Usher, Ludacris, T.I., 2 Chainz, Goodie Mob, Waka Flocka, Gucci Mane -- the list of famous Atlanta hip-hop acts and artists could go on forever. For likely over a decade, Atlanta has been considered a hip-hop mecca -- consistently discovering new hip-hop artists and featuring them on V-103, Hot 107.9 or Street 94.5. As Atlanta music expert Neima Abdulahi told The Huffington Post -- "It's so hard to even go in depth about the hip-hop music scene here... It's more than just a genre."
14. There's a famous highway full of food. While Atlanta might normally be associated with comfort food and sweet tea, Buford Highway has some of the best Vietnamese, Chinese and Korean food you'll ever have.
15. When in doubt, you can head to a festival.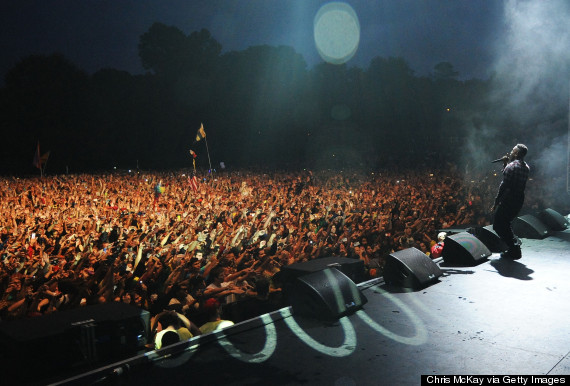 In the spring, you can find one of the best art festivals in the nation at the famous Atlanta Dogwood Festival in Piedmont Park. When you're not cheering at the U.S. Disc Dog Southern Nationals, go fill your face with funnel cake. The Virginia Highlands Summerfest and Music Midtown are other must-see-festivals where you're sure to get down and dirty.
16. Shootin' the hooch is a "thing."
Normally reserved for lazy spring or summer days, moseying on down the Chattahoochee River on a raft is one of life's greatest pleasures.
17. Sweetwater Brewery is always the place to be. SweetWater is our very own Atlanta microbrewery, and it's the most popular on Friday afternoons. Everyone enjoys the dog-friendly atmosphere and live music on the patios as well as and sampling one of the many brews on tap. Sweetwater also hosts one of Atlanta's most famous events, the SweetWater 420 Fest (no explanation necessary).
18. It's essentially a city in a forest. Atlanta takes its outdoor activities seriously, whether it's going for a run on the new Beltline, hiking Stone Mountain or spending the day in Piedmont Park. Atlanta also ranks first among major American cities in tree coverage percentage, at 53.9 percent. They're so protective of their trees that the city once fined Tyler Perry $177,000 for unauthorized deforestation on his own property.
19. Even the gridlock has its upsides.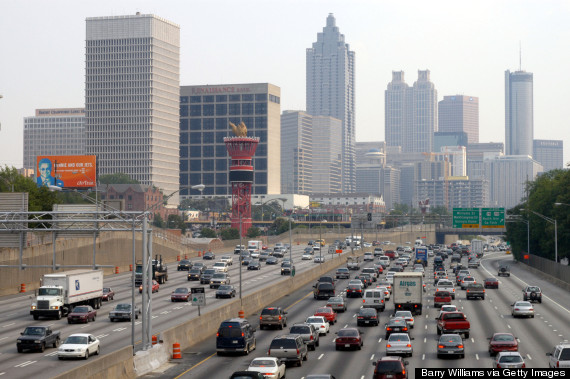 Hey, no city is completely perfect! Even though public transportation is terrible (cough cough MARTA) and traffic on Spaghetti Junction is horrendous, the long commute will give you time to catch up with your reading via audiobooks or catch up with friends and family via your hands-free phone, of course.
20. And if you can't find what you're looking for...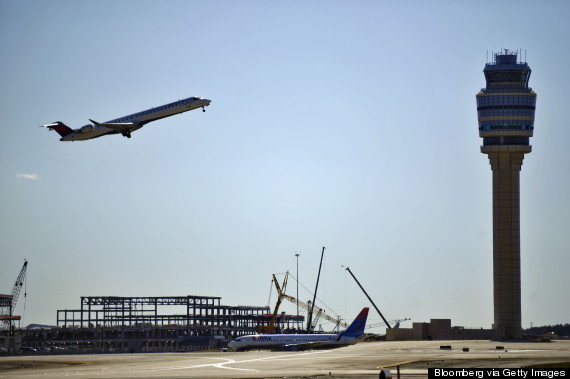 Then you'll just have to get out of town. Whatever you can't find in Atlanta, you can get to in a few hours at the insanely huge, insanely busy Hartsfield-Jackson International Airport. It's on roughly 4,700 acres, the best place for non-stop flights and home to its own club/VIP area as well as the largest international concourse in the world.
BEFORE YOU GO
PHOTO GALLERY
10 Most Content Cities In America