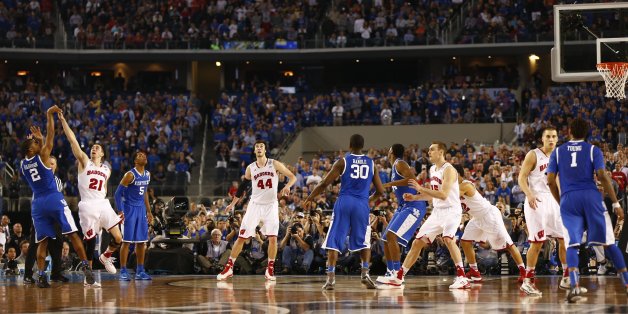 Aaron Harrison did it again.
For the third time in as many games, the 19-year-old freshman drained a go-ahead three-point shot in the final minute of an NCAA Tournament game to propel Kentucky to an unforgettable win. Harrison's latest game-winning bucket lifted No. 8 Kentucky past No. 2 Wisconsin in a Final Four thriller on Saturday night at AT&T Stadium in North Texas.
"This is the point where he always hits it," CBS announcer Jim Nantz said as Harrison stepped into a deep shot with Kentucky trailing and less than 10 seconds remaining in the national semifinal. "Oh! Aaron Harrison!"
(Video via gifdsports)
"It was a great shot," Wisconsin forward Sam Dekker told reporters after Kentucky's 74-73 win. "Aaron has been doing that all tournament. He's got that clutch gene."
With a trip to the Final Four on the line a week earlier, Harrison hit a similar shot against Michigan. After taking a handoff from his twin brother (who would presumably also have that so-called clutch gene), Harrison drained a game-winning three-point shot over the outstretched left arm of Michigan's Caris LeVert. That contested shot splashed the net at Lucas Oil Stadium with 2.3 seconds remaining to break a 72-72 tie. The Wolverines missed a halfcourt heave as time expired and the Wildcats advanced to the Final Four.
(Video via isaac)
"I knew I had to take the shot," Harrison said after his heroics against Michigan. "I wasn't really sure how much time was left. But I knew that it wasn't that much time, so I just tried to take the best shot I could take. And it fell."
Just two days earlier, Harrison got another go-ahead three-point shot to fall in the climactic moments of another NCAA Tournament game that won't be soon forgotten in Lexington. The Wildcats were trailing Louisville, 68-67, in the final minute of a bitterly contested Sweet 16 clash between intrastate rivals when Harrison stepped up. His three-point shot from the corner with 39.6 seconds remaining produced a lead that Kentucky would not surrender as it booked a spot in the Elite Eight.
(Video via Michael Shamburger)
"I mean, shooting the ball, you never really --- you're not like guaranteed it's going in," Harrison told reporters after Kentucky's 74-69 win when asked about the shot. "But it felt pretty good leaving my hands."
Entering the national championship game, UConn defenders will likely just disregard Harrison's lack of certainty and assume any shot that he takes with the game on the line is guaranteed to go in.