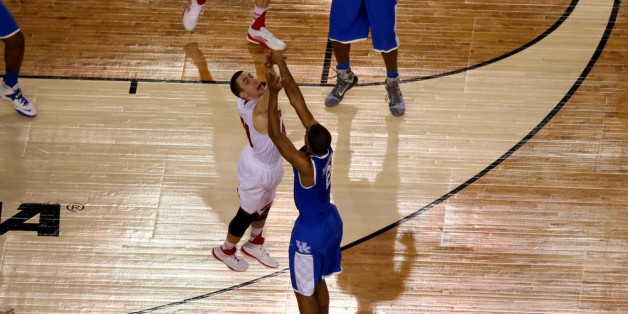 Aaron Harrison was hitting game-winning shots long before he put on a Kentucky uniform. According to his father, the 6-foot-6 freshman star, whose twin brother also plays at Kentucky, had a long history of making game-winning shots well before his run of clutch baskets in the 2014 NCAA Tournament.
"He's been hitting game-winners since he was in fourth grade. His first one, he was about 10 years old and it was as far as that shot against Michigan," Aaron Sr. told Gregg Doyel of CBSSports.com. "His final year of AAU ball, 17-and-under, we played 75 games. And he hit 12 game-winners."
While there doesn't seem to be any footage of those grade school games on YouTube, there is a clip below of a game-winning shot that Aaron knocked down in a high school tournament in 2012.
As Kentucky has marched on through the NCAA Tournament, the 19-year-old drained go-ahead three-point shots in the straight games ahead of the national championship game.
BEFORE YOU GO
PHOTO GALLERY
Best 2014 Sports Photos