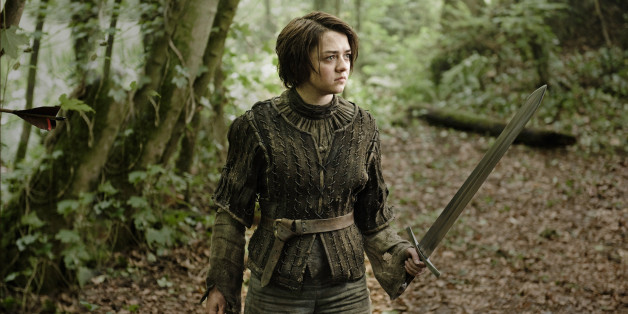 You know nothing, Jon Snow "Game of Thrones" fans!
If you read George RR Martin's "Song of Fire and Ice" series then you probably already knew what would happen in the previous three seasons of the HBO series before you watched them. You may also think you know what's to come in Season 4 of "Game of Thrones," but tough luck because writers David Benioff and Dan Weiss have switched things up.
You may have noticed one change in Sunday night's, April 6, season premiere when (spoiler alert if you haven't watched "Two Swords" yet!) Arya killed Polliver, the man who stole Needle from her in Season 2. In the book it was The Hound who killed Polliver, but Maisie Williams told Entertainment Weekly in an interview that the writers gave Arya the killing cred to reveal a turn in her character.
"She's definitely kind of changing and putting on a more brutal approach to things," Williams told EW. "It's a lot more risky, as well, she's not afraid of death." Williams also recently spoke to HuffPost about Arya's darkening character and her spiral downward this season as she begins to no longer fight for her family name.
Beyond the change to Polliver's death, Williams told EW that much of Season 4 will deviate from Martin's writing as well. "This year there's a few key plot twists and the way [the show's] writers go about it is different than the books," she said. "I think fans of the books will be a little confused, which I think is fantastic because it keeps it interesting for everyone."
"GoT" fanatics, you may think you know, but you have no idea.
"Game of Thrones" airs on Sundays on HBO at 9 p.m. EDT.
BEFORE YOU GO
PHOTO GALLERY
"Game Of Thrones"