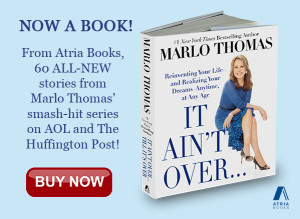 "One of the reasons I started my website is that I wanted a place for women to come together and dream. We women need to know that we don't have to hang on to an old dream that has stopped nurturing us -- that there is always time to start a new dream. This week's story is about a mother who had to find a way to make ends meet after her business went under. The product she came up with is now sold in supermarkets throughout the U.S., and is projecting nearly half a million dollars in revenue! " -- Marlo, MarloThomas.com
By Lori Weiss
It was a moment Mary Molina never imagined she'd ever see. Once the owner of a thriving small business in New York's Westchester County, she was now waiting in the lobby of the Department of Social Services. Children by her side, she was hoping someone would help her feed her family -- if only they'd listen to her story.
"I got there just after they opened," Mary recalled, "at nine in the morning. I filled out some paperwork and then I just waited. I read books to my two little girls. I made phone calls about jobs. But by the time 2:00 came around, I told them I needed to leave and pick up my other kids. That's when they told me I'd have to come back the next day."
"I had no money for the gas to get back there. So I took some silver jewelry and went to the pawn shop and got just enough cash to make the trip. And then, the next day, the same thing happened. When I told them I'd have to leave by 2, they told me I'd have to come back again."
Mary walked out of the office in tears and called her church to ask if she could pick up some food from their pantry, to feed her kids that night. Her husband, Ernie, had been waiting outside and at that very moment, his phone rang. Minutes later, he turned to her and said, "It's going to be okay."
"I said, 'No, it's not going to be. I don't think you understand what just happened!' That's when he told me the call was a job offer. It paid minimum wage, but he could earn commissions. I just fell to my knees because I knew it would give us time to figure things out."
The couple had fought for years to keep their wireless phone stores afloat. They lost their home in the process. And Mary recalled a moment, while she was in labor with her third child, Lola, that she was battling with late paying distributors, as nurses were telling her to breath.
"I should have been focused on giving birth," Mary said sadly, "but instead I was worrying about how we were going to pay our employees. I just knew if we stayed in that business, this would continue to be the way we lived our lives."
So in 2011, the couple, who by that point had four children, finally closed their stores and decided to start over. Ernie took that minimum wage job, and in an effort to save money, he'd ask his colleagues to pick something up for him on their way back from lunch -- anything they could find on the dollar menu.
"Ernie was eating double cheeseburgers for lunch," Mary said. "He'd come home and say he didn't feel well, and he was gaining weight. So he asked me to pick up some sort of bar that he could eat at his desk. But when I went to the grocery store, I couldn't find anything that I considered healthy. They were all filled with high fructose corn syrup and artificial ingredients."
"I thought, There must be something I could make for him. I knew he liked oats and I had them in my cupboard at home. I had honey and flaxseed and coconut. It was three in the morning by the time I had a chance to try anything. So there I was making granola bars and I thought, I'm going to call this Lola Granola -- after our daughter. Ernie will see it and it will cheer him up. So I wrote Lola Granola on a slip of paper and wrapped it around the bar. And then at 5:30 AM, I climbed into bed."
Article Continues Below Slideshow
PHOTO GALLERY
Mary Molina
What Mary never expected, was that her middle of the night creation, would be the beginning of a business that would not only feed her family, but others throughout their community -- and put them on their way to making nearly half a million dollars.
"At 10:30, Ernie called and said, 'This is the best bar I've ever had. You've got to make more!' I told him I had an entire tray waiting for him. And that's when he said, 'No, you don't understand. I've been passing these around at work, they want to buy them!"
Mary had never worked in the food business, but she knew there had to be rules about selling food that was prepared at home. So she told Ernie not to sell a thing -- that she'd just make an extra tray. But then she began making phone calls to find out what it might take, if she wanted to actually sell Lola Granola bars.
What she learned, was that in Westchester County, the Department of Agriculture would allow her to prepare the bars at home, once they inspected her kitchen and granted a license. She had to abide by their restrictions, but as long as she sold through retail stores and labeled the bars with a full ingredient list, she could begin a home based food business.
"My husband had already reached out to a store in town," Mary explained. "So as soon as I got my license, I picked up a tray of bars, and took them there. They bought forty bars on the spot. I thought if they'll buy them, there must be other stores that would too. So I took my kids on the train and starting stopping at other specialty stores on the route. Two weeks into it, we were picking up more and more stores. And people were calling me to re-order! I hadn't even thought about that!"
"My mom, my friends and my neighbors were all coming over, putting on gloves, and helping me pack bars and put on labels. I was making so many you could smell them from the street!"
But even with that good news, there were still difficult times on the horizon. Their situation was more dire than even Mary's husband realized.
"Ernie came across a television special, called Feed America. When he heard that one in four kids in the country go hungry, he came into the room sobbing, saying, 'One in four -- that could be one of our children.' I said, 'Ernie, those are our children.' He didn't realize that our neighbors, after hearing we'd closed the stores, had been dropping off groceries and gift cards."
Despite Mary's early success, the couple had no choice but to turn to food stamps. But that didn't keep either of them from moving forward on what had become an important mission. Mary continued selling her bars and Ernie decided to go to the community food bank -- to ask if the couple could donate some.
Lola Granola Bars became part of a backpack program for kids. And the food bank invited them to sample their product at local events. That's where, some might say, karma comes in. The local Whole Foods store was also at that event and they liked Mary's bar so much, they told the couple they wanted to sell them.
It was at that point, that the accidental entrepreneur realized, that in order to grow, she was going to have to get out of her kitchen. She turned to a facility in Syracuse, New York, that as it turned out, needed the work as well. Now they're helping Mary turn out 25,000 bars every six weeks.
"When I saw that first big sheet of granola come off the line," Mary remembered, "I began to tear up. That's when I knew we had a new lease on life."
Today, Lola Granola Bars are being sold in 13 Whole Foods stores throughout the Northeast. They're in Dean and Deluca nationwide, Fairway, select ShopRite Supermarkets and specialty stores throughout the country. Four flavors, named for each of their children -- Ellie, Enzo, Lola and Ruby -- plus a fifth, named for their nephew Nathan, have been picked up by a distributor, and this year, the Molina family is projecting revenue of $450,000. They are no longer on food stamps.
"When our community found out we'd lost our stores, even people who had never met us reached out to help. If it wasn't for them, I don't know where we'd be. I just want people to know, they shouldn't let pride stand in their way of asking for help. There will be someone who has compassion. Sometimes all you need is a little time to get back on your feet."
"Now when our neighbors see people picking up our bars," Mary said with a tear in her eye, "I hear them telling our story. They're so proud that we're from their town. And we're so proud to live here."
Add Marlo On Facebook:
Follow Marlo on Twitter:
Sign up to receive my email newsletter each week - It will keep you up-to-date on upcoming articles, Mondays with Marlo guests, videos, and more!