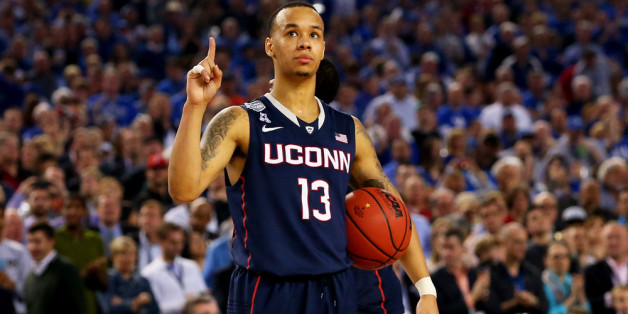 Monday night's national championship game in Dallas between Kentucky and Connecticut represents the highest combined seeds in NCAA title history. These blue-blood programs, while abundant in talent, have lost a combined 18 games this season. Yet at the same time, they have combined for a robust 11 titles. Monday's contest looks to be one where anything can happen. Let's take a look at the key matchups for the title tilt.
Guard Play
UConn's Shabazz Napier and Ryan Boatright were masterful in shutting down the Florida backcourt Saturday, including holding SEC Player of the Year Scottie Wilbekin to a measly 4 points on 2-9 shooting. Connecticut surrendered just three assists in all from a Gators team that ranked in the top 20 in offensive efficiency. While the Kentucky guards -- both Harrison twins and James Young -- possess a tremendous size advantage over UConn's, the elite quickness of the Huskies backcourt will prove highly disruptive. Napier -- the Wooden Award candidate and arguably the best overall player in the tournament -- and Boatright will try to get under them, and because none of the Kentucky guards are especially explosive off the bounce, they will find success. Aaron Harrison has been huge in the tournament, hitting three straight game-winning 3s, while Young has connected on 40 percent of his 3s.
Julius Randle vs. Phillip Nolan The truth is that Nolan is not the best defender, and is prone to foul trouble, so UConn head coach Ollie will also likely throw freshman Amida Brimah at Randle (pictured above), along with a spate of double-teams. Randle, the Dallas product and SEC Freshman of the Year, has displayed a relentless motor all season, totaling double-doubles in his first four tournament games, a freshman record. Nobody in the UConn frontcourt will be able to defend him one-on-one, so the chess match for Ollie is when, where and how often he wants to send help. Randle is not the most skilled passer from the block, but he has shown a willingness to go for it, and what's more, he doesn't waste time before making a move.
DeAndre Daniels vs. James Young
Young will likely see multiple defenders thrown his way, but he will also be largely responsible for the always dangerous Daniels, who's averaging 17 points and 6 rebounds in the tournament. The junior forward has great length at 6-foot-9 and has converted 42 percent from distance in UConn's five wins. His ability to stretch the floor, as well as rebound and defend, has given Ollie tremendous options on the other side of the floor. Meanwhile, Young has significantly upped his production, in part because of his newfound willingness to attack the lane with his dominant left hand. Both players are extremely skilled and often emerge as X-factors in close games.
Kevin Ollie vs. John Calipari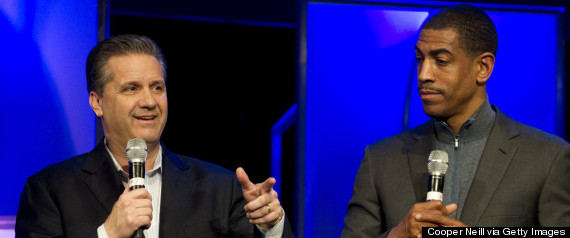 Ollie is a second-year coach in his first ever NCAA Tournament, while Coach Cal is hoping for his second title in three years. Calipari continues to talk about the big adjustment he made and how he won't reveal exactly what it was until the season is over. One possibility is that he gave his five starting freshmen a bit more wiggle room to make mistakes on the floor -- he has been less demonstrative and less eager to call time-outs in tricky situations, including before Aaron Harrison's game-winner against Wisconsin. The 41-year-old Ollie, who starred at UConn and played 13 seasons in the NBA, is regarded as a natural leader who has earned the trust of his kids. Never the most talented player, he stuck around because of his ability to become an extended coach on the floor.
Ollie will not panic in this game, just as he didn't when Florida jumped out to a 16-4 lead Saturday night. Calipari will want to establish Randle early and often while spreading the floor and forcing UConn to guard the Cats' size. Kentucky has a distinct size advantage and believes it can wear down the Huskies the same way it did the Badgers. Remember, it is the best offensive rebounding team in the country, and UConn ranks 247th in defensive rebounding. However, Ollie knows how lethal Napier and Boatright are on the perimeter, and his team has a terrific understanding of when it needs to double the post.
Email me at jordan.schultz@huffingtonpost.com or ask me questions about anything sports-related at @Schultz_Report and follow me on Instagram @Schultz_Report. Also, be sure and catch my NBC Sports Radio show "Kup and Schultz," which airs Sunday mornings from 9 to 12 ET, right here.