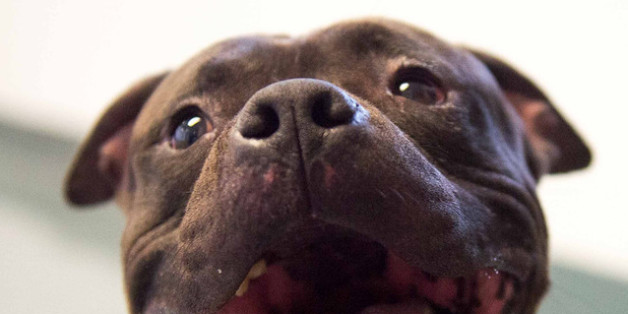 About a year ago, the city animal shelter in Nashville, Tenn., reversed a longstanding policy of not adopting out the many pit bulls and pit bull-type dogs that came through its doors.
"We are all very excited over here that these changes have been made to our adoption policy and that every animal will now have a chance at adoption regardless of breed," said the shelter's director, Judy Ladebauche, at the time. "Now we just need wonderful families to step up ready to adopt them."
A lot of families have: Metro Animal Care and Control celebrated their 1,000th dog adopted in the 2014 program year last month. But Nashville's pitties aren't in the clear yet, said MACC spokeswoman Rebecca Morris.
"Pit bulls and pit bull mixes are often more difficult to adopt due to commonly held misconceptions regarding their behavior," Morris told HuffPost. "Pit bulls tend to stay the longest at our shelter waiting for a place to call home. It can be difficult to dispel the reputation that pit bulls have acquired."
It would be easy to get depressed about pit bulls. They fill shelters, where these dogs are euthanized at alarming rates.
Victims of bad press and bad data, pit bulls are feared and banned -- even though the most recent data shows that the fear is seriously misplaced, and the bans do not lead to increased safety.
But there's reason for hope. The Nashville shelter's policy change is just one of many that show lawmakers, policymakers, insurance companies, animal shelters, the general public and even President Barack Obama coming to see these dogs as individuals, each with his or her own personality, not as a dangerous breed.
The most recent study, published in December by the Journal of the American Veterinary Medical Association, found that breed isn't a determinative factor for dog bites. Dogs that are neutered or spayed, and those kept as family pets instead of isolated from people, are less likely to bite. -- these are among the important factors. Dogs whose owners have a history of animal abuse or neglect are more likely to bite. Breed is not a good predictor of a dog's dangerousness.
For that matter, there's amazingly little consensus over what even constitutes a pit bull: Is it only dogs that are part American Staffordshire terrier, or is it any dog with a big blocky head and a big goofy smile?
What we do know for sure, is that these 55 pit bull-type dogs, and millions like them in shelters across the country, are all looking for homes. Some were rescued from dog fighting rings, others endured unimaginable abuse, and all of them now just want to be loved.
"We will continue to work to educate the public about what an amazing companion most pit bulls can be," said Morris. "They are one of the most charming, intelligent and gentle dogs imaginable."
PHOTO GALLERY
These Pit Bulls Need Homes!
The dogs in this slideshow are up for adoption through these rescue groups: PAWS Chicago; Jasmine's House, the Humane Society Of Calvert County, the Montgomery County Animal Services and Adoption Center and the Baltimore Humane Society, all based in Maryland; Pitty Love Rescue out of Rochester, New York; Memphis' Hearts of Gold Pit Rescue; the Fairfax County Animal Shelter, the Animal Welfare League Of Arlington and Dogs Deserve Better in Northern Virginia; the Washington Animal Rescue League and the Washington Humane Society in D.C.; Metro Animal Care and Control in Nashville; and Florida's Pit Sisters.
We are always looking for stories about animals -- get in touch at arin.greenwood@huffingtonpost.com