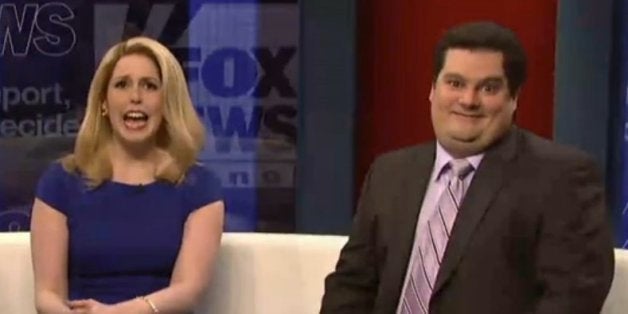 We don't know when another coincidence THIS GOOD will ever happen again.
"It's tough to sign up for things," Brian Kilmeade, played by actor Bobby Moynihan, said while criticizing Obamacare. "I've tried for years to join the NAACP!"
"Brian, why would you do that?" Elisabeth Hasselbeck, played by Vanessa Bayer, asked.
"I just love college basketball!" he responded.
Nearly two days later, "Fox & Friends First" host Heather Childers made the exact same mistake that was parodied on "SNL," only this time, it was real life.
"The UCONN Huskies are the 2014 NAACP National Champs," Childers reported Tuesday with a smile.
Rachel Maddow pointed out the unbelievable coincidence Tuesday night, calling out Fox News for literally 'closing the gap' between parody and their actual broadcast.