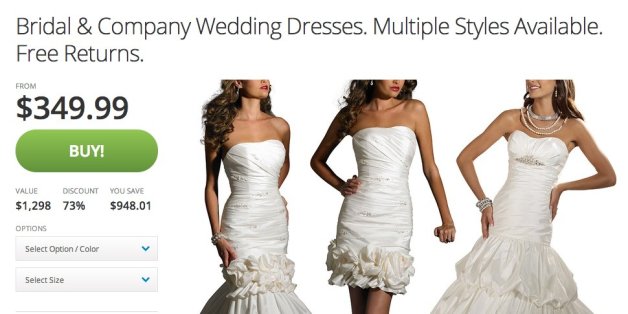 Budget-minded brides and grooms have a new one-stop shop for virtually everything related to their nuptials: Groupon.
The daily deals-turned-eCommerce website debuted its limited-run Groupon Weddings marketplace on Monday, offering eye-catching deals like $10,000 savings on engagement rings and cut-rate prices for honeymoons, reception venues and even DJ services.
Groupon first rolled out the Wedding Shop after a test run in January, according to CNBC.
"What was pretty amazing to us was not just the velocity that we saw but also the fact that consumers were talking about it," Lisa Kennedy, Groupon's vice president and general manager of fashion and apparel told CNBC. "From there we said, 'How can we make this better?'"
If the prospect of buying a tux or a reception venue online seems dubious, the savings (say, scoring a Nicole Miller wedding gown at 65 percent discount) may be persuasive enough for affianced couples who want to spend less than the cost of a new car for their big day. According to wedding planning website TheKnot, the average cost of a wedding in the U.S. in 2013 was about $30,000, excluding the honeymoon.
Though Groupon regularly sells deals for goods and services like the teeth whitening and jewelry featured in the Wedding Shop, a spokesperson told Crain's Chicago Business this is the first time the company has curated offerings especially for weddings.
For its temporary run, Groupon was thorough with the Wedding Shop offerings. Among the more unexpected items in the marketplace: Deals for a name-changing service, bride and groom bobbleheads and scar treatment serum.
Like all Groupon offers, the Wedding Shop is for a limited time only -- with some offers expiring before the Wedding Shop is shuttered. The online pop-up shop is set to close April 16.
Keep in touch! Check out HuffPost Weddings on Facebook, Twitter and Pinterest. Sign up for our newsletter here.
BEFORE YOU GO
PHOTO GALLERY
Biggest Wedding Planning Mistakes