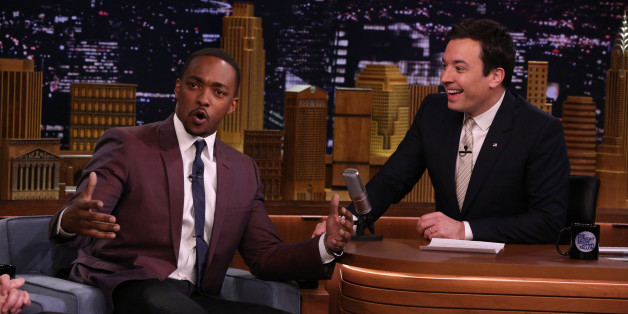 Last weekend, people flocked to theaters around the world to see Marvel's latest film, "Captain America: The Winter Soldier." Many came away loving Anthony Mackie, who played the captain's wingman, Sam Wilson, aka Falcon. Mackie may have debuted in 2002, as "8 Mile's" Papa Doc, but it is this latest role that's endeared him to the public on the kind of grand scale only a blockbuster can provide.
Across the web, fans of the new film are buzzing about the star -- Tumblr is suddenly full of photos and GIFs of Mackie's "Captain America" scenes and endearingly goofy interviews, as are newly-created blogs like F--k Yeah Anthony Mackie and Tumblr Needs More Anthony Mackie And So Do You. Many are hoping he'll make appearances in "Avengers: Age of Ultron" and the recently announced "Captain America 3."
So what is it exactly that has Mackie rising to the ranks of the Internet-famous? The answers are simple.
1. He stole the spotlight from a cast full of superstars.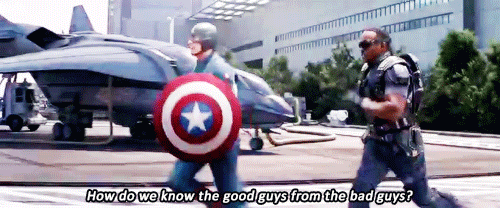 The latest "Captain America" film has received critical acclaim, not just for its intricately written and artfully directed narrative, but also for the the many excellent performances from its cast. Mackie is often considered the breakaway star of the film, portraying Sam Wilson with wit, depth and heart. Even though Falcon is a side character, he left a big impression on the audience.
2. He's playing the first African-American male superhero.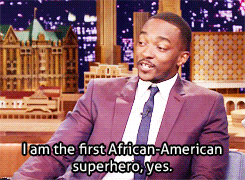 While there are plenty of black comic book superheroes in the Marvel universe, Falcon is the first African-American man to make it to the big screen (Storm from "X-Men" beat him to the punch as the first black superhero to get a cinematic debut). As such, Mackie is leading the way for other actors of color to join the ranks, including for Michael B. Jordan, Mackie's friend, whose casting as the Human Torch has caused some controversy.
3. He's in the Marvel game for the long haul.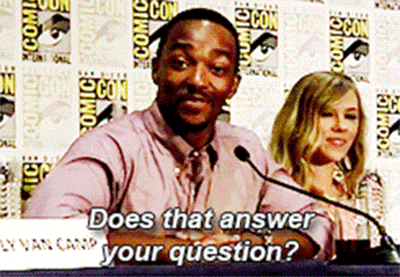 When asked at San Diego Comic Con if he wanted to be in "Avengers: Age of Ultron," he nodded his head vigorously and followed it with with a simple "Does that answer your question?" It's clear that Mackie loves the character of Sam Wilson, and is invested in Falcon's place in the Marvel cinematic universe. To be fair, so are many of his fans.
4. He loves his fans as much as they love him.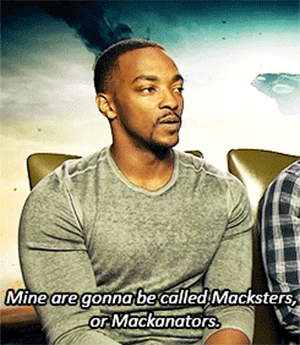 If Anthony Mackie has proved anything, it's that nothing is better than when a star shows his gratitude for his fans. He showed up to say hello to supporters at the premiere, talks with them on Twitter, and rarely says no to a photo. He's even provided nicknames for them so that the fans can rally under one name.
5. He's not afraid to be goofy.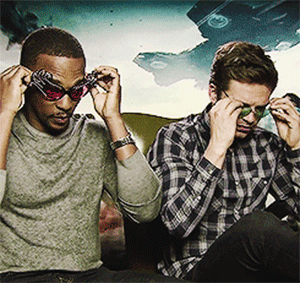 Some actors like to come off as reserved and cool-headed, but not Mackie. He's not worried about awkward faces, weird noises or outrageous statements. He has a good time, and his smile is so infectious, even his castmates and the interviewers want to join in on the fun. It's a very endearing, Jennifer Lawrence-like quality.
6. He has epic bromances with his cast mates.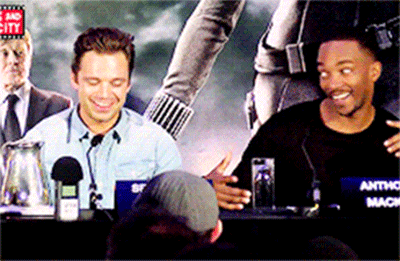 When it comes to Marvel movies, the cast tends to grow close during the months of training and shooting. In the case of Anthony Mackie, he bonded Chris Evans and Sebastian Stan. Their joking around onset, constant teasing during interviews, and tweets back and forth have proved that the three of them have become real pals.
7. He's another Marvel acting success story.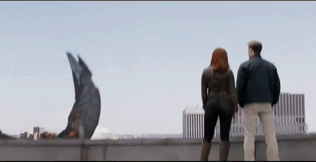 Tell me if this sounds familiar: Male actor known for smaller roles is cast in an unassuming Marvel movie, only to steal the show from the leads. Yup, that's what happened to both Mackie and Tom Hiddleston, who played the villain Loki in "Thor," "The Avengers" and "Thor: The Dark World." And if there's anything audiences love more than underdogs, it's surprises out of left field.
8. His interviews are hysterical.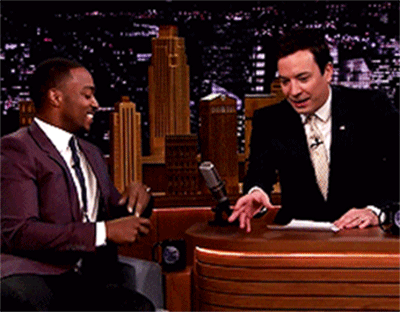 Whether he's stealing Jimmy Fallon's microphone, taking selfies on Ellen, or outing Chris Evans' lack of dance skills on MTV, Mackie is always incredibly funny. He knows how to engage an audience and always seems excited to be on stage. He's every talk show host's dream: energetic, affable and witty.
9. And for what it's worth ... he's easy on the eyes.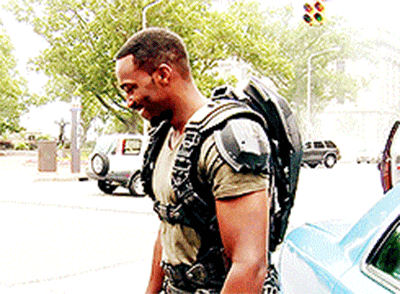 Of course, it doesn't hurt that Mackie is also quite handsome. After all, the majority of Internet darlings are physically attractive, so it's not odd to see fans obsessing over a man who can really pull off army green. Not to mention those arms!
BEFORE YOU GO
PHOTO GALLERY
Celebrity News & Photos