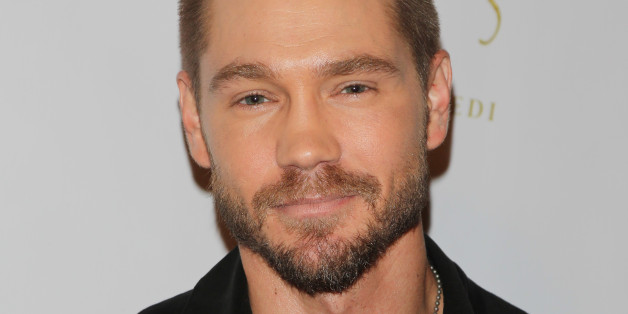 Chad Michael Murray has been a fixture in Hollywood since the 2000s, appearing in pop culture classics like "Gilmore Girls," "Dawson's Creek" and, of course, "One Tree Hill." Plus, the brooding blonde from Buffalo stole young girls' hearts as the lead male in teenage rom-coms like "A Cinderella Story" and "Freaky Friday."
Nowadays, Murray is channeling his dark side as he plays Jacob Orr in Crackle's series "Chosen," a show which centers around characters who are a part of a secret, deadly game that will change their lives forever. "Chosen" is set to debut its third season on April 15, and Murray couldn't be more excited.
"I don't want to be cliché, but expect the unexpected," Murray told HuffPost TV of the upcoming season. "I think all the action sequences are really punched up. We got Rose McGowan joining the cast and they really raised the stakes in every aspect of the show. You get to watch these characters really deal with the humanity with what this game would really cause a human to do."
Murray is also gearing up to release his new film "Other People's Children," in which he plays a homeless heroin addict. The 32-year-old dropped 25 pounds, taking the role to a whole new level.
But despite all the dramatic choices he's been making, does Murray still miss his days as a teen heartthrob? He revealed all about his past and future with HuffPost TV.
Tell me about your character Jacob Orr on "Chosen." Do you relate to him in any way or has this been totally different for you?
There's always pieces of a character that are relatable to yourself. I think the way that Jacob cares, his moral compass, I think that would be very similar to mine. But as far as living in these scenarios -- it's a very unreal scenario in a very real world -- I'm just trying to play him as real as the scenario would call for.
How's it been working with Rose McGowan this season?
I can't answer that because that would be a spoiler! But I would say this much, she's wonderful and she did a great job and everyone is really happy.
What do you like about being on a series versus in a movie?
I think it just depends on the material. "Chosen's" material, it's just high content and it's an opportunity to really kind of do some gut checks and discover what you have inside of you. For me, I just really love these things because it's working with wonderful people, the crew is the best and Ben Ketai is just an incredible, incredible showrunner, creator and director. So everything from the cast, crew and director, I feel very, very blessed to be a part of it. I just like the whole thing that Ben has created in his crazy head. In his dark, dark mind.
Your beard kind of went viral for a little while last year, and you recently talked about your weight loss to play a homeless man in "Other People's Children." Tell me about that transformation.
It was a lot. My character P.K. is a homeless heroin addict and to really invest in that, I lost about 25 pounds and kind of watched a couple of homeless guys who just happened to be around me and stole things from them. The way that they respond to things and the ups and the downs, whether it be the different mental disorders or diseases, I wanted to just kind of segment something there and we found a way to make it gel. I get to finally see the film April 15 and, personally, I can't wait because everything I have seen just looks incredible.
Did the role mess with your mind a little bit?
Yeah, that's the thing. It took me about three to three-and-a-half weeks after I was done filming to kind of shake off the energy of someone who would be in that state of mind. It's so dark and it really puts you in such a funky spot. I just didn't feel like myself … it was bizarre and different. You just can't get rid of that negativity and that anger that this character carries for certain things.
So that was a big departure for you. It's weird to think that "A Cinderella Story" is going to be 10 years old this summer ...
Oh my God, don't date me. Don't date me!
You are prime nostalgia for a lot of people out there with "Gilmore Girls," "Dawson's Creek," and "One Tree Hill." Can you reflect on those days a little bit and how is it different now in Hollywood than it was when you first got into the business.
Just for me, I'm grateful for all of it. Every single experience gave me something else to really pull from and learn from and without them and without the people who were around me, I would have never been able to figure out things as an artist. And to discover the type of person that wants to choose to do this bizarre and weird thing and really just challenge myself. So to start off, I'm just really grateful for all those.
I mean the industry itself, there's just so much more content. You have everything from digital content now, to the about a thousand channels on the television, so there's so much programming out there. So, those different things in the industry have changed. I think when I came here, it was an opportunity and I saw it and I grasped it and I felt good about it and I was fortunate enough to find some people who championed behind me and gave me the opportunity.
Speaking of the changes in programming, it's funny to think that in "A Cinderella Story" it was all about texting. Do you ever think how the movie would be different 10 years later?
You know what's funny? That hasn't dawned on me. I guess because it's just like FaceTime and stuff like that … if you used Skype, it would be anti-climatic, don't you think?
Of course I have to ask you, "One Tree Hill," would you be down for a reunion?
I don't know anything about it. Please, fill me in!
Outlets have been asking the cast members if they would ever like to have a reunion, make a movie or a little special on the CW …
Oh! Man, I don't know. I think Mark [Schwahn] did a great job in having Lucas come back in Season 9. It was something I wanted to give the fans. I really wanted to go back and just give them a little swan song while we had that chance. But I think it ended in a really good place.
This is the first I've heard about any reunions, so I'd need to sit on it and think about it. But I think that we have the best fans in the world. The "One Tree Hill" fans are incredible and I'm grateful for every moment that I've gotten to spend with them and everything that they've done. They just followed for years and years and years, God, how many years has it been, 10? Ten or 11 years since that show started, so that unbelievable fan base, I admire them. And they're still there watching all my new content and now they're coming over to "Chosen." I kind of like the fact that we're all growing together.
Oh yes, I'm one of those fans. "One Tree Hill" was on during my prime teenage years.
Is that true? That's awesome.
Yes, that was my show when I was growing up. I loved it.
Uh, oh. Well, did it change very much for you after Season 6?
Of course, the show was different without Lucas, but still great. And I'm sure you got some hate mail during that time like, "Bring back Lucas!" But you came back in the end and gave the fans what they wanted.
Yeah. I didn't know what was going on around me, I literally disappeared for a year and went camping, backpacking, just living the life and learning and then I finally got social media right towards the tail end and I finally got to see how the fans felt. And so I was like, "You know what? I just want to go back to them." And that's honestly why I did it, I felt like, you know, it's perfect and we all talked to each other and said, "Let's just find a way to make it work." And we made it work and it was great. So, Luke got to come back.
You must be proud that you're in all these awesome pop culture classics, and now you're moving on to this darker stuff. It will show fans a new side of you.
Of course. Every single aspect, every single piece of it is a part of my identity and it's helped me grow as a human being, so I always look back and I'm like, "Man, not one bad word I could ever say." I am so grateful and I'm happy with everything that has occurred. I mean, how many people do I see consistently come up and go, "Oh my God, I love Cinderella Story!" It's the craziest, most wonderful blessing.
Like us on Facebook |

Follow us on Twitter |

Subscribe to our Newsletter
BEFORE YOU GO
PHOTO GALLERY
The CW's New Shows 2013-2014