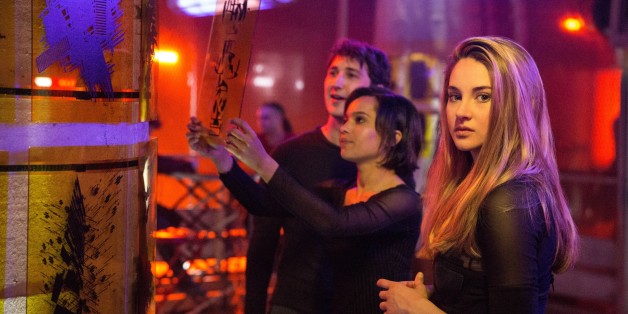 As first reported by Deadline.com and followed immediately after with an official press release from Summit Entertainment, "Allegiant," the final book in Veronica Roth's "Divergent" series, will get split into two films for its screen adaptation.
"Allegiant: Part 1" will arrive in theaters on March 18, 2016; "Allegiant: Part 2" is set for release on March 24, 2017.
"Veronica Roth brings her captivating story to a masterful conclusion in 'Allegiant,' a rich, action-packed book with material that is ideally suited to two strong and fulfilling movies," Lionsgate Motion Picture Group Co-Chairmen Rob Friedman and Patrick Wachsberger said in a joint statement. "The storytelling arc and world of the characters lend themselves perfectly to two films, a storytelling strategy that has worked very well for us on the two 'Twilight Breaking Dawn' films and about which we're tremendously enthusiastic for the two upcoming 'Mockingjay' films of 'The Hunger Games' franchise."
As noted by Friedman and Wachsberger, splitting the final book of a young-adult series into two films for the big screen has become normal practice in Hollywood. From a financial standpoint, it worked for both "The Twilight Saga: Breaking Dawn" (more than $1.5 billion in global grosses between the two films) and "Harry Potter and the Deathly Hallows" (more than $2.6 billion around the world), and it's expected that "The Hunger Games: Mockingjay" will follow suit. Not everyone, it should be noted, is happy with this trend.
In an industry full of shamelessly callow trends, this has to be the absolute worst: http://t.co/xSr4GoZKFy

— kateyrich (@kateyrich) April 11, 2014
Thus far, "Divergent" is off to a "fast start," according to Lionsgate and Summit. The movie, which stars Shailene Woodley and Theo James, has grossed $117 million at the domestic box office in its first three weeks of release, with openings in France, Germany, Russia and Australia still to come. Doug Wick and Lucy Fisher are producers on "Divergent" and its subsequent sequels. The first film was directed by Neil Burger.
For more on "Allegiant," head to Deadline.com.
BEFORE YOU GO
PHOTO GALLERY
"Divergent" Photos