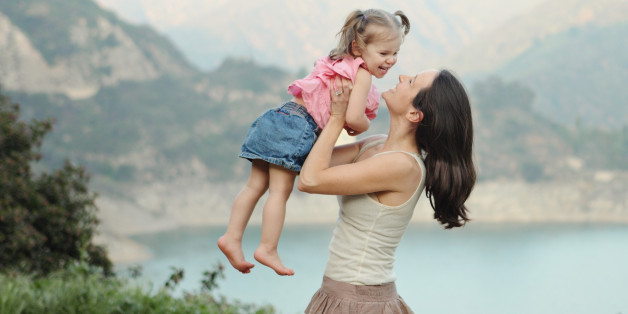 Glennon Doyle Melton first came into our lives two years ago, when she wrote "Don't Carpe Diem," a funny and relatable but also wise and life-changing piece about having young children. (It is required reading for parents, so if you haven't been there, done that, go now and come right back.) She had posted it on her site, Momastery, where her community of Monkees was already in full swing. We picked it up, and introduced a few more people to her amazing voice.
Together with her Monkees, Glennon held Love Flash Mobs -- online fundraisers for moms in need. Eventually, these turned into a non-profit organization that has connected countless families with hundreds of thousands of dollars.
And, she kept writing. About gay rights. The so-called "Mommy Wars." Ridiculous stuff that happens at bedtime. The essays, along with a few new ones, became Glennon's New York Times bestselling memoir, Carry On, Warrior, which went on sale in paperback this week. Its subtitle is "The Power of Embracing Your Messy, Beautiful Life." Doesn't that sound nice? Well, the good news is that, starting next week, Glennon will be here on HuffPost Parents to teach you one very important part of how that works -- becoming a Warrior Parent.
Here she is to explain, in her own words.
Love and fear go together like bedtime and nervous breakdowns.

We look at our kids and our terror swells right along with our hearts. We think, How will I protect this person I love so much from a scary, unpredictable world? Every day it relentlessly dawns on us: we can't. Things are going to HAPPEN to her. She'll skin her knee. She'll be made fun of. Someone will break her heart. As Buechner so beautifully promised: "This is the world. Terrible and beautiful things will happen. Do not be afraid."

That's lovely, Buechner. Really. And it makes for a lovely pin. But we are afraid anyway. These are OUR BABIES, after all. And the world is CRAZY.

How do we control our parenting anxiety so that we don't raise people who live in fear of the unknown? How do we become BRAVE parents -- not only so that we can raise brave kids -- but so that we can enjoy this parenting ride a bit and quit holding our breath so often? How can we parent these precious little people in a dangerous world and BREATHE at the same time?

Well, I sure as hell don't know. But I'm working hard with a therapist to try to untangle my "anxiety" (a therapy term for the tangled ball of Love and Fear that lives in the pit of my stomach). Therapy is pricey and I feel like I'm beating the system if I share what I learn with as many parents as possible. So I'm joining HuffPost Parents for a three-week workshop to offer REGIFTED THERAPY about how to be a Warrior Parent with less anxiety.

Love,
G.
So, are you in? If you'd like to participate in this three-week workshop with Glennon here on HuffPost Parents, sign up for our newsletter.
Find out more about Carry On, Warrior, and read an extended excerpt here.