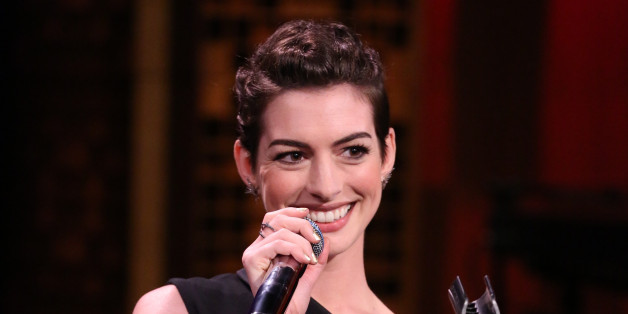 Forget "I Dreamed a Dream" -- we always knew Fantine was meant to sing "My Humps." If will.i.am gets his wish, it might not be such a long shot.
The Black Eyed Peas frontman and producer extraordinaire said that, after working with Anne Hathaway on the "Rio" movies in which they each voice one of the series' avian characters, he'd love to record with the Oscar winner independent of a film project.
"I want to make music with you!" will.i.am said during a recent radio chat with Ryan Seacrest. "From 'Rio 1,' I was like, 'She sings like that?!' ... It would be so amazing to do music outside of an animated film. That would be freaking dope."
Will.i.am and Hathaway have already recorded one song together, the Auto-Tune-heavy "Hot Wings (I Wanna Party)," from the first "Rio" soundtrack. Hathaway demurred, as she is wont to do, at the notion of teaming up with the Grammy winner.
"I am blushing so hard right now," she responded. "Wow, okay cool, so this day just got that much more surreal. The thing is, he's going to get me in the studio and then he's going to hear me for real, and he's going to be like, 'Oh, never mind.' [I mean] he works with Fergie. That's like his 9 a.m. meeting. I can't beat that!"
Hathaway suggested that she instead record "the [finger] snaps at the back of the album." Regardless, she's a standout chanteuse: Her rendition of "I Dreamed a Dream" is the best part of 2012's "Les Misérables"; she joined Hugh Jackman for the opening number at the 2009 Oscars (and, for better or worse, sang again when she co-hosted with James Franco in 2011); and she accompanied Jimmy Fallon in transforming rap songs into show tunes on "The Tonight Show" just a few days ago.
Listen to Hathaway and Will.i.am's full interview with Seacrest:

BEFORE YOU GO
PHOTO GALLERY
Strange Musical Collaborations Of The 21st Century