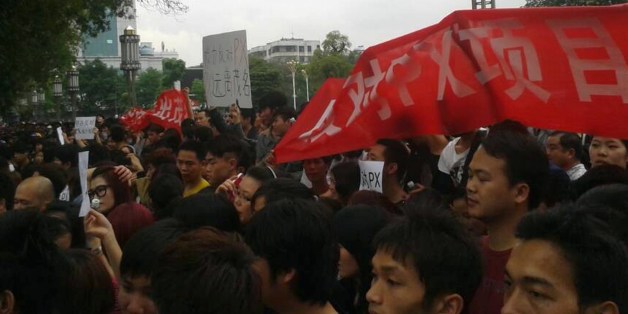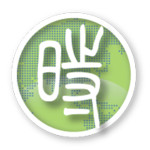 User Generated, Censor Chosen Keywords on Weibo is a monthly feature produced by China Digital Times for The WorldPost.
Hundreds of residents of Maoming, a city in the southeastern province of Guangdong, took to the streets on March 30 to protest the construction of a paraxylene (PX) processing plant. PX is used in the manufacture of plastics, and has for years been the target of not-in-my-backyard (NIMBY) protests in China. Maoming turned violent -- protesters claim that several people were killed by the police -- a charge which the authorities deny, though they have conceded that some protesters were "accidentally" injured.
Protests continued at least through April 3 and spread to Shenzhen and to the provincial capital, Guangzhou. While Maoming officials have promised to allow public input and to scrap the proposed plant if a majority of residents oppose it, the South China Morning Post reports that locals are skeptical. Residents have opposed the Maoming PX plant since 2009, when plans for the plant were announced. Meanwhile, the Guangdong Propaganda Department has requested that provincial websites "take care to delete all calls for protest in Guangdong."
PX plants have stoked protest since 2007, when residents kept out a plant slated for construction in the coastal city of Xiamen. To date, PX protests have occurred in Dalian, Ningbo, Kunming, and Chengdu. The "Xiamen model" also created a new form of protest, "taking a walk" (sanbu 散步), in which protesters simply agree to gather at a particular place and time to walk together. Among searches how blocked on Weibo is Maoming+take to the streets+take a walk (Maoming+shangjie+sanbu 茂名+上街+散步).
While searches Maoming+police (Maoming+jingcha 茂名+警察) and Maoming+bloody (Maoming+xuexing 茂名+血腥) are blocked, these searches still pull up an exchange between the verified Weibo user Shaoshang Chaoren Abao (烧伤超人阿宝) and Shecil Miaomiaomiao (Shecil苗喵喵):
Abao: There are a few obvious facts about Maoming that you should keep in mind: (1) These days, everyone has a smartphone and can snap a photo and share it at any time. It is basically impossible to completely block information. (2) Up to this point, not one of the alleged photos of violence at the protest is not fake, as image searches show. (3) There is no shortage of people who will spread these fake photos and sensational stories.
关于茂名,有几个显而易见的事实请留意:1.目前是人手一个智能手机,可以随时拍照随时上传的时代,所谓的封锁消息根本就是完全不可能。2.网上传播的所谓现场血腥照片目前为止用搜图工具一检验没有一张不是假的。3.不断有大量小号在故意的散发这些假照片和耸人听闻的消息。
Shecil: As to your second point, except for a few particularly bloody photos, they're all real.
想想还是就第二条说下,图片除了个别特别血腥的那几张,大部分都是真的。
This is the height of rumormongering. They start with a few real photos, then slip in a bloody one and slander the police as brutal killers. Malicious!
这就是造谣的最高境界,先放几张真的现场照片,最后偷偷塞进一张假的血腥照片,污蔑警察暴力杀人。用心歹毒!
The accusation of rumormongering is a serious one. As of last fall, users who post false information which is then reposted over 500 times can face up to three years in prison.
China's state media has long focused coverage on the benefits of domestic PX production and public misconceptions about the environmental danger of PX plants. The Maoming Daily, a local government newspaper, ran a lengthy front-page article on March 31 in which it praised the plant and called PX "an important element for a happy life." After last year's protests in Chengdu and Kunming, the national state newspaper People's Daily stated that PX is no more harmful than coffee. Such assurances have not averted protest. While PX is produced globally and is not necessarily more dangerous than other industrial chemicals, the lack of public involvement in building PX factories, and the history of successful protests, keeps bringing people to the streets.
Weibo user Zuojia Cui Chenghao (作家崔成浩) played the government's trope of science and safety off Microsoft's announcement on April 8 that it would no longer support its operating system Windows XP, leaving many users concerned that they will be hacked. Zuojia's post was deleted and archived by FreeWeibo:
Why did Microsoft completely abandon PX? I checked it out, and PX clearly has low toxicity. Okay?
微软为什么彻底放弃px?我查了一下,px明明是低毒的好不好?
Low toxicity, so the public has been told. But reassurances of PX's safety ring hollow when factories mean business for local governments--Maoming's plant would be jointly run by the local government and the state-owned oil company Sinopec--and protests are distorted and downplayed by the media. At ChinaDialogue, environmentalist Ma Tianjie writes that local governments need to shift from "interested parties" to "referees" if they hope to break the cycle of PX protests. Until that shift, more PX puns will await the censors.
Blocked Keywords: The following keyword searches have been blocked on Weibo.
Since March 31:
● Maoming (茂名): Unblocked as of April 5.
● PX: Unblocked as of April 5.
● Pengzhou Petrochemicals (彭州石化): Unblocked as of April 5. Chengdu residents protested the construction of a PX processing plant last May.
Since April 5:
● 茂名+P(X)(Maoming+P[X]): Unblocked as of April 7. However, "茂名+PX" (Maoming+PX) is currently blocked.
● 茂名+芳烃 (Maoming+aromatic hydrocarbon): PX is an aromatic hydrocarbon.
● 茂名+化工 (Maoming+chemical industry)
● 茂名+石化工程 (Maoming+petrochemical engineering project)
● 茂名+血腥 (Maoming+bloody)
● 茂名+警察 (Maoming+police)
● 茂名+坦克 (Maoming+tank)
● 茂名+屠杀 (Maoming+massacre)
● 茂名+冲突 (Maoming+conflict)
● 茂名+示威 (Maoming+demonstration)
● 茂名+游行 (Maoming+march)
● 茂名+聚集 (Maoming+assemble)
● 茂名+上街+散步 (Maoming+take to the streets+take a walk)
● maoming+PX
● maoming+上街+散步 (Maoming+take to the streets+take a walk)