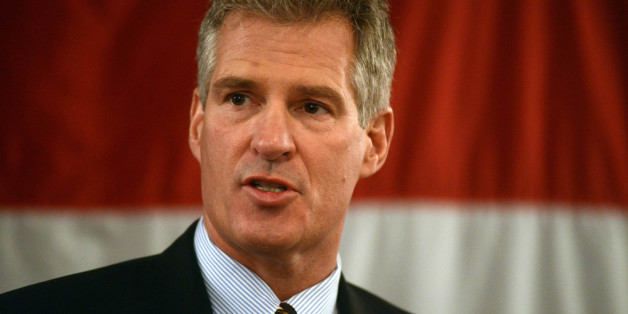 Former New Hampshire Gov. John Sununu (R) is stumping for former Sen. Scott Brown (R-Mass.), bragging that he's the best candidate for Senate because he was "born virtually" in the Granite State.
But Brown, who is running against Sen. Jeanne Shaheen (D-N.H.), was actually born in Maine.
"We just gotta remind people that he's coming back to his roots," Sunnunu told Yahoo's Chris Moody at a rally last week.
"[Shaheen] votes with Elizabeth Warren. She votes with [Massachusetts Democratic Sen. Ed] Markey. She is the third senator from Massachusetts," Sunnunu told supporters at the rally. "Scott's happiest days as a young man were in New Hampshire…So it's going to be great to have a senator that was born virtually in the state of New Hampshire. Jean Shaheen, by the way, was born in Missouri!"
Did you catch how Sunnunu cleverly described Brown as "virtually born" in New Hampshire? He was actually born in Maine, which for Brown's campaign is close enough for government work and has the great advantage of being closer than Missouri and not being Massachusetts. It is also rather audacious to paint Shaheen as a "senator from Massachusetts," since Brown quite literally was, and very much wanted to remain, a senator from Massachusetts.

Making Shaheen into a foreign-born agent will be a challenge, obviously. In fact, it's ludicrous (although amusing) to say she's an outsider. While Shaheen, the first female senator in New Hampshire's 226-year history, is indeed a native daughter of St. Charles, Missouri, her involvement in New Hampshire politics stretches back decades. Her early career as a campaign operative brought her to the state Senate before going on to be a three-term governor. After a stint as the Director of Harvard University's Institute of Politics, she was elected to the Senate. By way of comparison, Brown, a man with his own impressive political career as an attorney and state legislator in Massachusetts, obtained New Hampshire residency just a few weeks ago.
The AP reported in March on why Brown, who spent the first year and a half of his life living in New Hampshire before his family moved to Massachusetts, might have trouble winning over Granite State voters.
"Do I have the best credentials? Probably not. 'Cause, you know, whatever," Brown told the AP. "But I have long and strong ties to this state. People know."
Brown has already faced criticism in the race, specifically for refusing to sign a "People's Pledge" rejecting outside spending in the race, a pledge he touted until he entered the New Hampshire Senate race.
Read more from Yahoo's Chris Moody on Brown here.
BEFORE YOU GO
PHOTO GALLERY
Scott Brown