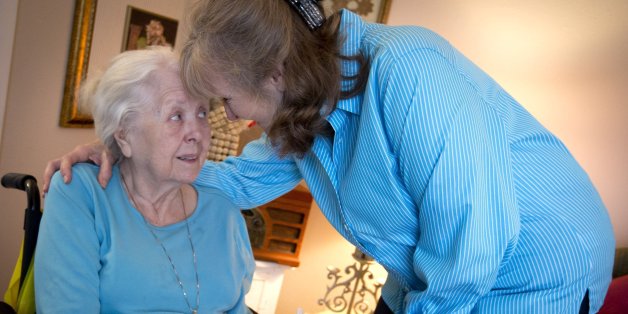 Even though the number of people living with dementia is expected to double to 65.7 million by 2030, no one has yet to figure out the definitive cause for Alzheimer's disease. But now a new study has unearthed a clue as to why more women than men develop the condition.
Stanford University researchers analyzed data from more than 8,000 people, most older than 60, who were tracked between 2005 and 2013 at about 30 Alzheimer's centers across the United States. In general, having a copy of a certain gene variant known as the ApoE4 variant upped the risk of Alzheimer's. But women with a copy of this variant were about twice as likely to develop Alzheimer's as those who didn't have it.
The study, published in the April 14 issue of the Annals of Neurology, could lead to the development of gender-specific treatments for Alzheimer's.
The number of women with Alzheimer's far exceeds that of men with the condition. That's partly because women on average live longer than men. But greater longevity explains only part of women's increased susceptibility to Alzheimer's. "Even after correcting for age, women appear to be at greater risk," said Dr. Michael Greicius, assistant professor of neurology and neurological sciences and medical director of the Stanford Center for Memory Disorders, in a written release.
Greicius, the study's lead author who -- in addition to his research -- spends about one-fifth of his time seeing patients, said that the differential male/female ApoE4 effect implies that clinicians need to take different approaches to patients with this gene variant, depending on their sex.
"These days, a lot of people are getting genotyped either in the clinic or commercially. People come to me and say, 'I have an ApoE4 gene, what should I do?' If that person is a man, I would tell him that his risk is not increased much if at all. If it's a woman, my advice will be different," he said.
The study is just the latest breakthrough in the Alzheimer's arena.
Last year, a massive Alzheimer's study found new genes linked to late-onset Alzheimer's, giving scientists clues on how to create better drugs to fight the disease.
In another study, researchers found that early detection may be the best cure. Medications for Alzheimer's typically fail, researchers believe, because symptoms have generally progressed and it can be difficult to reverse the damage. Early detection of the disease could give doctors a chance to administer treatment, potentially delaying or even stopping the progression.
Generally speaking, even when dementia isn't the direct cause of death, it can lead to respiratory failure, choking, pneumonia or various other serious health conditions.
BEFORE YOU GO
PHOTO GALLERY
Foods For Brain Health