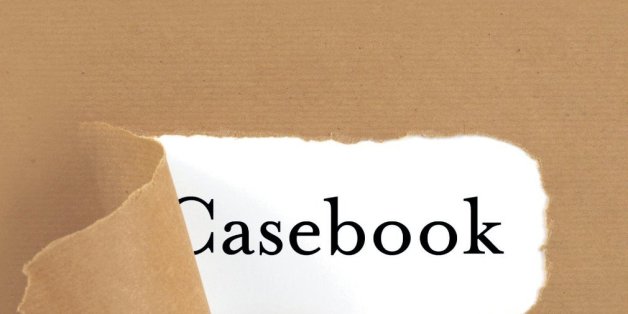 Casebook
by Mona Simpson
Alfred A. Knopf, $25.95
Publishes April 15, 2014

The Book We're Talking About is a weekly review combining plot description and analysis with fun tidbits about the book.
What we think
Mona Simpson's new novel is framed by a tacked-on premise: that it is a memoir written by two childhood friends as a sequel to their cult-favorite comic book Two Sleuths. Casebook commences with a note from the proprietor of the comic book shop where the book is available via on-demand printing. The note rather laboriously explains the history behind the text and its writing, and accounts for another stylistic flourish occasioned by the conceit; because Casebook was purportedly written by two friends, one of whom drafted it and the other of whom made certain edits and interjections, readers will occasionally stumble across footnotes inserted by the second collaborator.
The note and footnotes offer intriguing possibilities, but in practice the note feels heavy-handed and the footnotes seem, initially, like a well-intentioned but unilluminating distraction. The concept of two friends passing a manuscript from one to the other, in order for the other to make comments and revisions, could have been fertile ground for an exploration of the idiosyncrasies of memory and perspective. In practice, however, the edits seem mainly invisible to the reader and the footnotes are superficial comments that do little to complicate the actual story. Fortunately, they are sporadic and increasingly infrequent throughout, leaving us with a book that reads very much like a standard novel. And once the novel proper begins, Simpson's touch becomes light and sure.
Casebook deftly tracks the unraveling of a family through the eyes of a child and then young teenager. Though the primary narrator, Miles, is an adult at the time of writing, Simpson allows his childhood story to play out through the tantalizing tidbits that would have been available to the young child of a marriage on the edge of divorce. Even a keenly perceptive, curious child like Miles can only pick up snippets of conversation and arguments he can't yet understand properly as his parents attempt to hold their relationship together. He and his childhood friend and co-narrator, Hector, listen in on his parents' fights and, later, his mother's budding post-separation romance. Both are fascinated by and concerned about Miles's mother and her uncertain quest for a "family romance."
Miles's mother Irene, to whom Miles refers as "the Mims," is a mousy math professor who longs for a picket-fence lifestyle -- family dinners, outings with the children, and general domestic bliss. After divorcing a husband who doesn't share her idealization of domesticity, she carefully maintains a friendly, even close relationship with him, unwilling to give up on the perfect family unit even in the midst of marital failure. Meanwhile, she's begun dating Eli Lee, who Miles describes as "the dork guy," and who becomes deeply entangled in their family life over the course of several years despite an ominous trickle of red flags. Miles, eager to love and accept his beloved mother's new boyfriend, quickly becomes accustomed to the presence of this new father figure, just as his mother becomes accustomed to accepting his compliments and believing his promises. Everyone in the family wants to believe that one day this dorky, floppy-haired guy will give Irene the companionable marriage she longs for, even as, once again, Miles begins to catch snatches of arguments and pick up on tensions that his mother assumes he's too young to understand.
The childlike simplicity of Simpson's prose juxtaposes touchingly with the mature themes with which she's dealing. Miles and Hector both yearn for the Mims to be given the happiness they feel she deserves, but they're hyper-attuned to every vanishingly small sign that she'll never get it. As the novel progresses, the detective-story motifs loom larger, as the pair graduates from surreptitious eavesdropping and hushed speculation to more dogged gumshoeing. But the domestic deceptions and mysteries that lurk beneath seeming familial bliss, while shocking, are not simple and straightforward as in traditional mystery novels or comic books. Finding out the facts behind their suspicions will inevitably be more devastating than cathartic, and resolution will be a far more involved process than the big reveal.
Despite the formal conceit of the book-within-a-book and the mystery novel trappings, the heart of the book is simply the story of an emotional coming-of-age. Simpson's novel is at its strongest in the quiet, unadorned gray areas where Miles's childhood neuroses and tender loving impulses for his family mingle painfully with his desire to face up to the truth, and to make a sensible, genre-ready account of their experiences. Miles's desire to write his family's story is at odds with his instinctive urge to protect those he loves, but he must also come to accept that simple fixes rarely work and burying his head in the sand won't fend off harsh realities. The suspense of uncovering these terrifying secrets drives the reader forward as well, but it's the poignancy of a child coming to terms with the irreversible losses and ill-judged compromises of adult life that gives emotional weight to the narrative.
What other reviewers think
The New York Times: "Like her last novel, "My Hollywood" [...] this novel, also set in Los Angeles, gets off to an extremely bumpy start, then builds slowly in its second half into a genuinely moving story."
Flavorwire: "Any person who grew up in a family being slowly torn apart by their parents' crumbling marriage will instantly relate to 12-year-old Miles Adler-Rich's attempt to understand why things are falling apart. Casebook will even find a way to sink its hooks into readers who haven't had to experience that."
Publisher's Weekly: "Simpson's attempts to add a metafictional touch via Hector's footnote comments feel half-finished, but overall her command of the story is rock-solid."
Who wrote it?
Mona Simpson is the author of six novels, including Anywhere But HereMy Hollywood. Her novel Off Keck Road won the Chicago Tribune's Heartland Prize and was a finalist for the PEN/Faulkner Award. She was also the recipient of numerous other awards, including a Whiting Writer's Award and a Literature Award from the American Academy of Arts and Letters, as well as a Guggenheim grant. She teaches literature and writing at UCLA and Bard College.
Who will read it?
Readers of literary fiction that feature simple, evocative prose and domestic themes, as well as fans of books written from a child's perspective. Also, readers who enjoy literary mysteries or thrillers.
Opening lines:
"I was a snoop, but a peculiar kind. I only discovered what I most didn't want to know."
Notable passage:
"Summer came full on, and even in our happiness, all of us home, there was a quality of waiting. The Mims's contentment rested on a belief that Eli was coming, coming with a dog, coming with time for family walks after dinner. You and your family romance. Could she go our whole lives like this, waiting, believing in something sweet? Was it so different from all those people who went to church once a week and maintained a precarious faith in heaven? I didn't know. I really didn't know. My eyes hurt on the back, inside my head."
Rating, out of ten:
8. Once the book loosens its grip on the clumsy framing device, the story offers both a gripping plot and clear, smart execution, as well as exerting a strong emotional pull on the reader.