Police officer Chad Adams dressed as an Amish woman for nearly two months earlier this year, in an attempt to catch a man who Amish families in Western Pennsylvania said was exposing himself to their children.
"I was the butt of jokes from all around, but everyone thought it was a good operation," Adams, a sergeant with the Pulaski Township Police Department, told The Huffington Post.
Adams said in the weeks between the end of December and middle of January, his department investigated several reports of a man exposing himself to Amish children as they walked home from their school. The incidents were reported by Amish people living in New Wilmington, a small town located about 60 miles north of Pittsburgh.
"We didn't have enough to charge him with a crime, and the parents didn't want to involve the children in court proceedings," Adams explained. "When doing surveillance, we would see his vehicle, but we couldn't catch him in the act."
It was a lack of solid proof, Adams said, that made him think outside the box.
"We asked the families if we could get some [women's clothing] and walk along the roadway in hopes he would expose himself to us," the veteran officer said. "I was kind of nervous, because I did not know if they would be offended, but they were totally for it and agreed."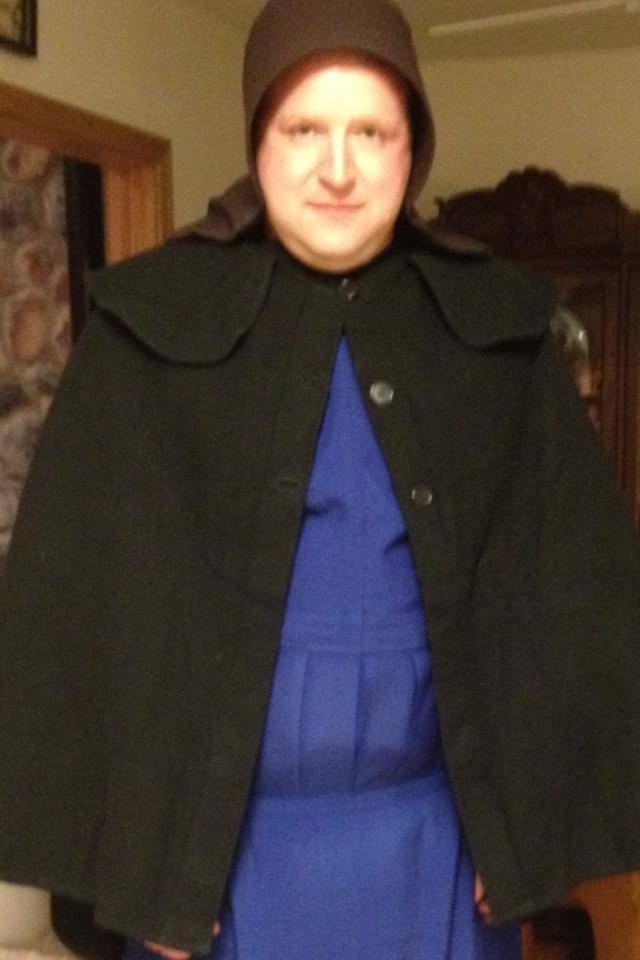 A photo of officer Chad Adams dressed as an Amish woman. (Photo: Pulaski Township Police Department)
In the weeks that followed, Adams, accompanied by a female officer, donned the Amish clothing and walked the back roads of New Wilmington in hopes of catching the suspected child predator.
"We were hoping he would pull up alongside of us, get out and start doing his thing," Adams said. "I don't think anyone driving up the road could tell I was a man. I figured he would have been so caught up in his thing mentally [that] once he realized it was a man it would have been too late."
Adams and a select few others, including fellow officers and a few Amish people from the area, were the only ones who knew about the undercover operation. In the interim, the police department arranged for transportation for the children to and from school.
"This guy was pretty [brazen]," said Adams. "He was doing it quite often to the girls before we found out it was going on."
When several days went by without a sighting of the suspect, the police began to wonder what happened to him. It was not long thereafter that they learned authorities in a neighboring county had apprehended someone for allegedly committing similar crimes.
Police in Pulaski Township said they don't have enough evidence to charge that person for the alleged crimes committed in their area, in part because some Amish families aren't willing to allow their children to testify in court.
The sergeant's cross-dressing escapades might have gone unnoticed, had he not decided to post a photo of himself working undercover as an Amish woman to the police department's Facebook page last week.
"Part of me didn't want to reveal it, but I felt I had to because I didn't want anything happening like this in the future," Adams said. "I thought if I put this out there, maybe it would deter this guy from doing this again in the future."
Adams added, "I just hope people look at this as a positive, instead of something negative. I really tried to get this guy, so I hope by putting this out there, it helps everyone see what we do behind the scenes -- that we really try hard to catch people like this."
BEFORE YOU GO