Daniel Botelho is no stranger to photographing underwater seascapes dominated by sharks. But for his latest National Geographic assignment, seascapes alone wouldn't cut it -- he wanted a skyline as well.
The article, which focuses on Recife, Brazil, as one of the geographic hotspots for conflict between sharks and humans, needed a photo to illustrate the murky boundary between the two. After spending more than 200 hours in the water, Botelho captured this fleeting glimpse: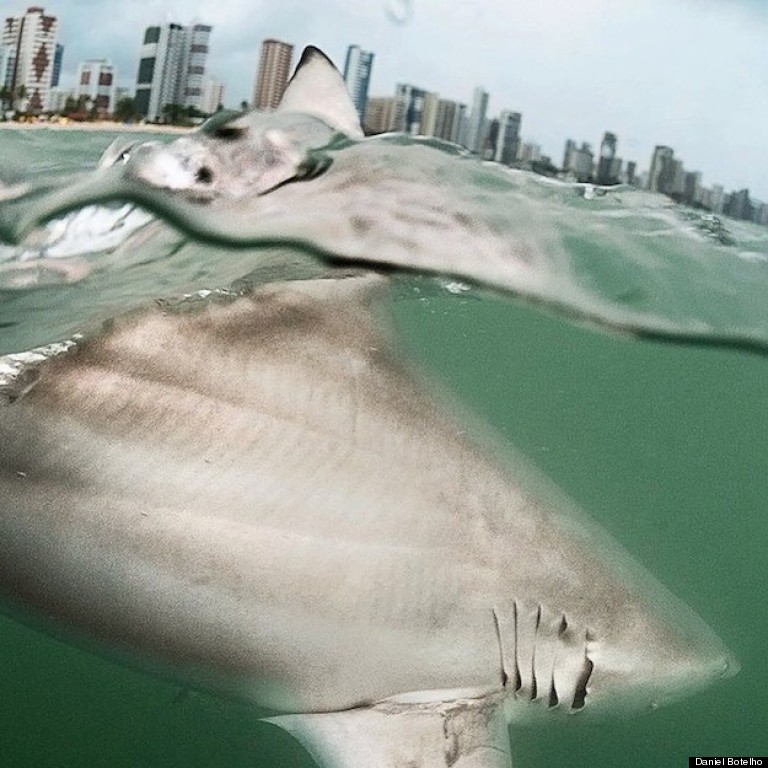 The photo, a split-level image with the Recife skyline above in the background and a large blacktip shark looming underwater in the foreground, is dominated by the shark's fin, which perfectly intersects the two panes.
Writes Botelho in a Facebook post accompanying the photo:
National Geographic needed to send an ambassador to the world's biggest conflict area among men and sharks, at Recife, Brazil, there I went and this fresh photo is the result [of] years of efforts trying to make a photo of a shark so close to the metropolitan area. I was honored to meet this animal and it is good to remember that the sea is a wild place even ... so close to the cities and we should never forget this!!!!!!!!!!!!!!!!!! Respect the wild!!!!!!!!!!!!!!!!!!!
"The shark is only 50 meters from the shore," Botelho told GrindTV in an interview about the picture. "I have people saying, 'Hey, that is my building, my home, in the background of that photo.'"
Botelho added that he didn't use chum or bait to attract the shark. Instead he relied on fishermen and spearfishermen, whose actions naturally attract sharks anyway.
For the period from 1931 to 2013, Pernambuco, the Brazilian state in which Recife is the capital city, has experienced 55 shark attacks, 16 of which have been fatal. That adds up to a fatality rate of close to 30 percent -- nearly double the world shark fatality rate average of around 16 percent.
A 2012 BBC report linked Pernambuco's alarming number of shark attacks to two primary causes: the area's natural geography, which sits close to a major migratory route for sharks, and environmental disturbances, particularly polluted water which lures sharks closer to shore in search of an easy meal.
BEFORE YOU GO
PHOTO GALLERY
25 Ways To Avoid A Shark Attack