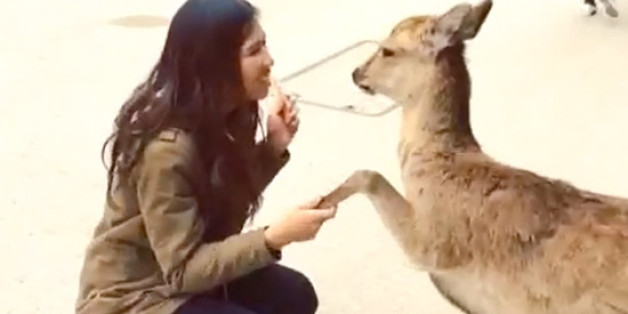 Itsukushima is a small Japanese island known for its floating shrine, lush maple trees and exceptionally friendly deer.
The deer are considered sacred, and everyone from local children to tourists can feed, pet and play with them. Signs remind visitors to treat the deer gently because they will playfully poke their noses into pockets and purses looking for food.
But a tourist recently discovered that one deer mastered a special trick to get treats.
"I was looking for somewhere to eat and this oyster vendor was feeding a deer bread and shaking hands with him," Michelle Nguyen told HuffPost. "The oyster man saw me and waved me over and gave me bread crumbs to try it."
Nguyen said tourists should look out for other magical deer because some know other tricks like bowing for food.
Itsukushima is also known as Miyajima, meaning the Shrine Island, and is a 10 minute ferry ride from mainland Japan.
BEFORE YOU GO
PHOTO GALLERY
Unexpectedly Cute Animals