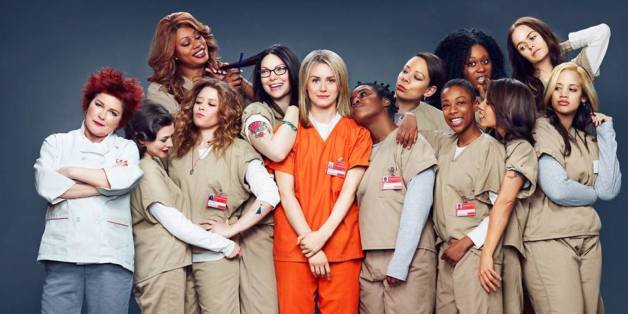 It looks like "Orange" is bringing sexy black. (Nailed it.)
"Orange is the New Black" showrunner Jenji Kohan spoke at the Hollywood Radio and Television Society lunch on Wednesday, April 16, and it got sexy.
"I love graphic sex, the more sex the better," Kohan said, according to The Hollywood Reporter.
Kohan went on to talk about the challenges of creating all those steamy scenes we need to click away from of when our moms come in the room, saying actors' insecurities play a big role.
"You hope everyone will just be cool about it, and then they're not. There's a lot of convincing and making people feel comfortable," Kohan said.
She also talked about the contractual limitations of the actors. Some contracts limit on-screen nudity to specific parts of the body, like side boob or just one butt cheek, which is totally understandable from the actors' perspective. If you show both butt cheeks, where's the mystery in that?
Full nudity on the show earns actors a whopping $10 extra per day, according to Kohan. That's good for two $5 Footlongs for those of you keeping track at home #SoWorthIt. It was also revealed that there will be full frontal male nudity in upcoming episodes, so it sounds like Season 2 will have enough Footlongs for everyone.
"Orange is the New Black" returns Friday, June 6, on Netflix.
PHOTO GALLERY
"Orange Is The New Black"
BEFORE YOU GO