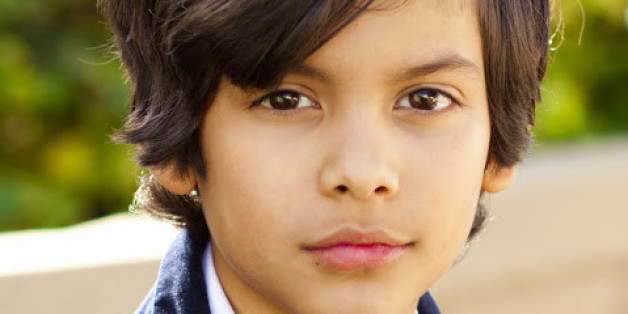 The season finale of "Parenthood" airs on Thursday night, meaning we'll probably find out if Julia and Joel will get back together. In preparation of this emotional final episode -- and let's be honest, a secret hope that we could get some finale spoilers -- HuffPost TV chatted with Xolo Mariduena, who plays Joel and Julia's adopted son Victor.
So will Joel and Julia get back together? Mariduena couldn't tell us, but he one thing's for sure: He's team Joelia.
What do you think about Joel and Julia's separation? Do you think it's realistic?
I think it's definitely realistic for my age range. I think it resonates with different people's families. I think Victor was very shocked, because they seemed so happy always. I think it was really shocking for him to see such a loving family sort of fall apart that quickly.
Are you rooting for Joel and Julia?
I think everyone is. I would say they're pretty much the perfect couple. I think Victor as a character would really love to have them back together, just because they're the only family that's ever cared for him. I think that it's had a very big impact on his life.
I know at first Sydney blamed Victor for Joel and Julia's separation. But do you think this separation has brought Victor and Sydney closer together?
I do. It's only gonna be Sydney and Victor, and I think that they're very dependent on each other. I think it's brought them closer in a way that they can understand each other and understand each others views.
I know Victor had a pretty tough time adjusting, but do you think he finally feels like one of the Bravermans?
I think he fits in perfectly. I think the only thing that isn't so perfect is that he wasn't born into the family. But other than that I think he fits in perfectly. He gets along with all of the characters and both of his parents as they love him and think he can grow and prosper. I think the whole family -- especially Craig T. Nelson, Zeek -- all those guys have really been great.
Who do you feel closest to on the "Parenthood" set?
I would say Tyree [Brown]. Just yesterday I was hanging out with him and we were playing video games. Even though we don't have a lot of scenes together we both get along so well even though he's a few years younger than me.
Even though most of your scenes are with Savannah, do you feel like you have your own special bond with the other Braverman kids?
Jabbar and I are very close. I pretty much see Savannah every day. I see Max once in a while, he's definitely a very nice and down to earth person. Drew …. or Miles [Heizer], he's really nice. A little shy, but I think it fits him. All of them are very nice and I get along very well with them. It's a perfect cast, especially for my first job, I feel like it'll be the best job I'll eve have.
Should we be excited for the season finale? Are there any big surprises coming up?
I can't tell you any surprises, but I think everyone will love the season finale.
Catch the season finale of "Parenthood" on Thursday, April 17 at 10 p.m. ET on NBC.
BEFORE YOU GO