Reason no. 637,784 to adopt a shelter pet: No matter what terrible obstacles they encounter, they can be incredibly resilient -- and as friendly and loving as ever.
Take Edgar, a 2-year-old Maltese-mix puppy with a devilishly gruff and handsome face, who was left to die in a trash can.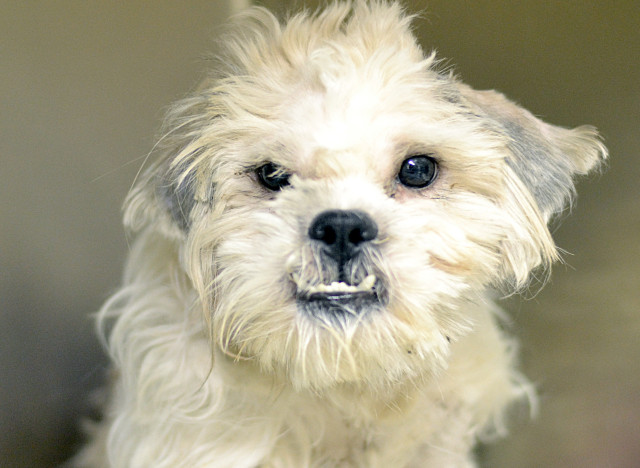 Courtesy Michigan Humane Society
In early March, a passerby heard whimpering coming from a garbage can in a Detroit alley, according to the Michigan Humane Society. When Edgar was found, he had the handle of a large plastic bag was twisted around his neck. He also had an upper respiratory infection and severe burns from being forced to sit in his urine.
MHS Chief Cruelty Investigator Debby MacDonald said in a video about Edgar, above, that they believed he had been kept confined in a small crate for a long period of time before someone decided to just throw him away.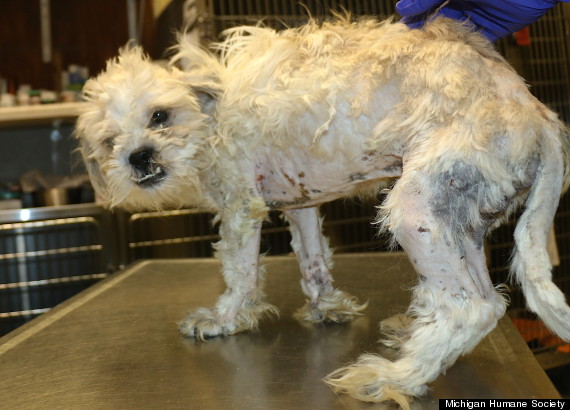 Courtesy Michigan Humane Society
But a little over a month later, after care at MHS and donations from the public, he seems entirely unfazed. And he found a new home: Edgar was adopted Wednesday by Cindy Nelson-Pouget, and it looks like he couldn't be happier.
Here he is meeting Nelson-Pouget and giving her lots of kisses:
Courtesy Michigan Humane Society
Here's Edgar during his treatment:
Courtesy Michigan Humane Society
In the MHS video, Nelson-Pouget says that she saw Edgar's story on the news and couldn't get his picture out of her head.
"It just broke my heart," she said. "No animal should have to live like that."
MHS initially provided a reward of $2,500 for information leading to the arrest and conviction of the person responsible for dumping Edgar. With public donations, the reward increased to $6,000, but no one has come forward, MHS spokesman Ryan McTigue said.
But it still turned out good for Edgar and Nelson-Pouget, who knew she was going to adopt him before she laid eyes on him.
"Something was just pulling at my heart saying, 'You need to go get this dog,'" she said.
See a photos of Edgar below, from being discovered in a trash can through his recovery. Warning: some images are graphic.
PHOTO GALLERY
Edgar Finds A New Home
BEFORE YOU GO
PHOTO GALLERY
One-eyed Dachshund Hugs Rescuer