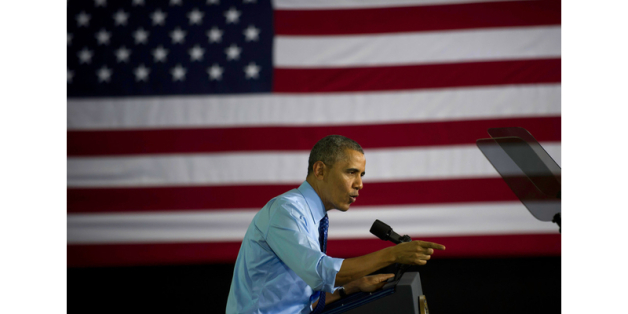 President Obama's approval rating has ticked up but still weighs down Democrats. The RNC's quest for a data advantage remains a work in progress. And anti-Obamacare ads are still flooding the airwaves. This is HuffPollster for Friday, April 18, 2014.
WILL OBAMA'S APPROVAL RATING RISE IN TIME FOR MIDTERMS? - Jonathan Bernstein, writing earlier this week: "According to the HuffPollster estimate, Obama's approval rating bottomed out at 42.5 percent in the first week of December. He's up to 44.4 percent now [at the time of writing], a 2 percentage-point gain over about four months. We're seven months from Election Day; if the trend continues, Obama could get up to about 48 percent. Of course, the trend could just as well reverse or accelerate. I'm somewhat skeptical that it would make much difference….Four presidents have made it to a second midterm in the polling era. In January 1958, Dwight Eisenhower was at 60 percent approval and was at 52 percent in early November. Ronald Reagan held steady, going from 64 percent in early January 1986 to 63 percent in late October. Bill Clinton was at 59 percent in early January and ended October at 66. And George W. Bush began 2006 with 43 percent approval and slumped to 38 percent by early November. [Bloomberg View, Pollster chart]
BEHIND THE SCENES IN THE RNC'S QUEST FOR DATA SUPREMACY - Jon Ward: "The Republican National Committee, in particular, has staked its reputation -- in the press and with conservative donors -- on becoming the center of data and tech for the GOP….But as the 2014 midterm elections grow nearer, behind-the-scenes, intra-party squabbling has highlighted where the RNC still has a ways to go in using tech to win the future…Beacon [a Republican voter relationship management system] is designed to 'pull' reports from the voter file and to originate lists of voters for workers in the field to contact…The problem, as another RNC official recently admitted on condition of anonymity, is that Beacon 'is not currently operational.'...For now, the RNC is using a program called GOP Data Center, built by FLS Connect, a political data technology company. Data Center was built in 2012 to connect primarily with the door-to-door mobile device application GeoConnect, also built by FLS Connect. But it is harder for Data Center to connect with other applications not built by the company. This has limited the ability of outside users to tap into the resources available in the RNC's voter file, thus limiting the ability of the RNC to continually update and refine that same file….RNC sources acknowledged that Beacon will continue to operate largely in beta mode throughout the 2014 midterm cycle, putting most of the GOP's load on the shoulders of Data Center, which has its own challenges. Fully replacing Data Center likely won't happen until the 2016 cycle." [HuffPost]
OBAMACARE ADS: A ONE MESSAGE ENVIRONMENT - Kantar/CMAG's Elizabeth Wilner: "Number of new anti-'Obamacare' campaign or issue commercials launched since the first open enrollment window closed on March 31: 32. Number of pro-Affordable Care Act campaign or issue ads launched since March 31: 1. The Obama Administration may have reached its CBO-determined enrollment target or come darn close, but that hasn't exactly stopped the ads....The lone pro-ACA ad to hit broadcast TV since open enrollment ended was an ad by the group Put Alaska First. In its efforts to support vulnerable Democratic Sen. Mark Begich (D), the group's ad of April 10 features a breast cancer survivor saying she was initially denied insurance due to "a pre-existing condition," but, "I now have health insurance again because of Mark Begich." The ad does not mention the ACA. Unfortunately for the sake of public opinion about the law and Democrats on the ballot, not only are Obamacare foes keeping up the advertising, but we're approaching the peak of Republican primary season. Since March 31, a number of GOP candidates in races for U.S. Senate and governor down to a state senate contest in Alabama have used Obamacare in their attempts to out-conservative their rivals for their respective nominations." [Cook Political]
HUFFPOLLSTER VIA EMAIL! - You can receive this daily update every weekday via email! Just click here, enter your email address, and and click "sign up." That's all there is to it (and you can unsubscribe anytime).
FRIDAY'S 'OUTLIERS' - Links to the best of news at the intersection of polling, politics and political data:
-Maggie Hassan (D) continues to lead her challengers in the New Hampshire governor's race. [UNH]
-Most Americans favor building the Keystone Pipeline [Reason-Rupe]
-Most Americans say they can ill afford to be out of work for more than a month. [Gallup]
-John Sides examines how many seats the GOP is likely to gain in the House in 2014. [Monkey Cage]
-The authors of the "where's Ukraine" survey follow up. [Monkey Cage]
-Charlie Cook argues that fundamentals will give Republicans an advantage in the 2016 presidential race. [Cook Political]
-Nate Silver sees little chance that the a national popular vote compact will succeed. [538]
-Pennsylvania voters are the most disadvantaged by the Electoral College. [The Week]
-Brent Benson attempts to adjust polls on the Democratic primary race for governor of Massachusetts governor for the name recognition of the candidates. [MassNumbers]
-More Americans search for "church" around Easter than any other time. [Pew]
-Facebook users are more likely to say the service is getting worse (29 percent) than getting better (20 percent). [Edison Research]
-Men have more leisure time on weekends than women. [Pew]