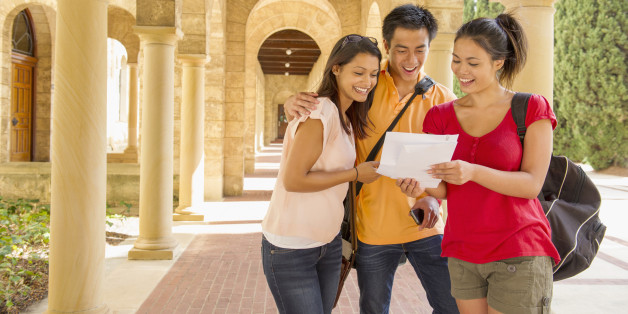 Everyone's had nightmares about that classic thin envelope. It's something you dread from the time college is a mere blip on your radar, to the moment you wait with your own children to hear from the school of their dreams. No matter which way you spin it, a college rejection is never going to be fun.
But you need not worry, fellow dream school rejectees. Though the sting is still palpable, there are plenty of reasons why an initial rejection is not the end of the world.
1. These highly successful people got rejected too -- and look where they are today.
Meredith Vieira, Warren Buffett, John Kerry, Katie Couric, Steven Spielberg, Tom Brokaw and Columbia University's President Lee Bollinger all got rejected from their dream schools. But getting turned down may have been the very thing that sparked all their eventual successes. As Bollinger put it, no one should let rejections control his or her life. To "allow other people's assessment of you to determine your own self-assessment is a very big mistake," he said. "The question really is, who at the end of the day is going to make the determination about what your talents are, and what your interests are? That has to be you."
2. The sting will prepare you for facing an unstable post-college future.
A 2013 poll stated that more than 40 percent of college graduates were underemployed, and more than half of grads said getting a job was difficult. The market is still recovering, and there are twice as many college graduates working minimum wage jobs as five years ago. We know the rejection hurt, but you are so much better off having experienced it now so you are prepared for the turbulent future.
3. You may end up loving your fourth choice school more.
Students often put the emphasis on big-name schools versus the places that would fit them best. But often students who don't attend their first choice school are happiest throughout their time in college. As Shawn Abbott, the Assistant Vice President and Dean of Admissions at New York University, put it to high school students, "You will love your fourth choice school. I know that I did."
4. It forces you to step back and reevaluate the most important qualities you want in a school.
It's incredibly easy to put your dream school on a pedestal, which makes the rejection that much more difficult. Yet when you romanticize instead of rationalize, you may overlook some key factors about the school you wouldn't have liked if you attended it. For example, you may not have realized how key Greek life would be on campus, or you might have underestimated how tiny 4,000 students would feel after two years. Getting rejected from a school you have your heart set on forces you to really prioritize the aspects you value most in a college experience, regardless of the school name.
5. Going to a less prestigious school doesn't mean you'll have a less prestigious future.
According to a 2011 study by Alan Krueger of Princeton University and Stacy Dale of Mathematica Policy Research, students who were rejected by highly selective schools eventually raked in salaries nearly identical to those earned by the students who went to those schools. "Even if students don't get in, the fact that they are confident enough to apply indicates they are ambitious and hardworking, which are qualities that will help them regardless of where they go to school," Krueger said. These less measurable traits, aka "unobserved student ability," could be the key to your future success in the job market.
6. The odds were never in your favor, anyway.
It's very easy to take a rejection personally and to imagine that the admissions office had some vendetta against you and your application. It's not that simple. Universities like Stanford accepted only 5 percent of their applicants for the upcoming school year, a new low amongst the most prestigious schools. The number of applicants has increased dramatically the past few decades and a higher number of applications generally leads to the acceptance of a smaller percentage of the students who apply. Between the high number of applicants, budget cuts, in-state versus out-of state quotas and preferential treatment for alumni's children, the odds were literally never in your favor.
7. Your sadness means someone else's joy.
Somewhere in the world, a student less fortunate and more fit for the school got an acceptance letter for your spot, and they have you to thank. Former Globe columnist David Nyhan wrote a piece in 1987 that still rings very true today:
This is the important thing: They didn't reject you. They rejected your resume. They gave some other kid the benefit of the doubt. Maybe that kid deserved a break. Don't you deserve a break? Sure. You'll get one. Maybe this is the reality check you needed. Maybe the school that does take you will be good. Maybe this is the day you start to grow up.

Bad habits you can change; bad luck is nothing you can do anything about.
8. When it comes to getting a job, where you went to college probably won't make or break it.
Though you might imagine seeing "Harvard" on top of a resume would instantaneously impress an employer, there are other factors that matter significantly more. Newsweek published a survey in 2010 that showed in terms of hiring, employers ranked experience, confidence and even how you look above where a job applicant went to school. That means you should be focusing on internship and leadership experience, not the college sweatshirt you wear.
9. Rejection might be the very thing that motivates you to succeed.
J.K. Rowling was famously turned down 12 times before Bloomsbury agreed to publish the first Harry Potter book. Just a few years later, she became the first billionaire author. What happened when Steve Jobs got fired from Apple? He made an unexpected comeback that's still spoken of today. Jobs attributed his eventual success to his initial failure in his 2005 commencement speech at Stanford University:
I didn't see it then, but it turned out that getting fired from Apple was the best thing that could have ever happened to me. The heaviness of being successful was replaced by the lightness of being a beginner again, less sure about everything. It freed me to enter into one of the most creative periods of my life ... Sometimes life hits you in the head with a brick. Don't lose faith. I'm convinced the only thing that kept me going was that I loved what I did. You've got to find what you love.