Executive Editor of The New York Times, Jill Abramson, shared some valuable tips with us about dealing with a stressful work environment.
"It sounds so corny," she said, "but you have to have a sense of humor. Laughing, even if it's gallows humor, helps you let off tension. You have to laugh."
Abramson said she relies on humor to cope with the difficult, sometimes depressing, daily news stories she covers. "The news itself is very difficult to absorb," she said, "and it occasionally helps to have the ability to laugh at yourself."
For more of Jill Abramson's life and career, view the slideshow below:
PHOTO GALLERY
The Rise And Rise Of Jill Abramson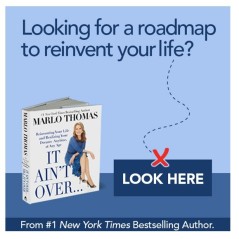 Add Marlo On Facebook:
Follow Marlo on Twitter:
Sign up to receive my email newsletter each week - It will keep you up-to-date on upcoming articles, Mondays with Marlo guests, videos, and more!