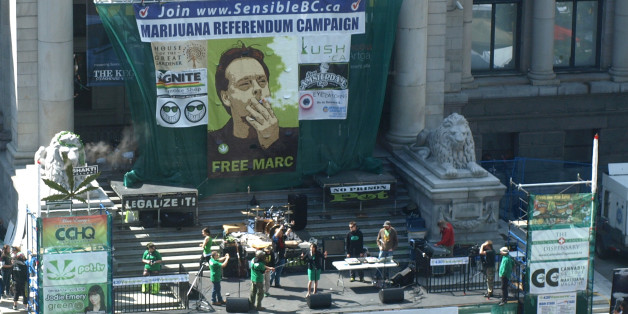 Vancouverites will be smoking pot by the thousands at their annual 4/20 rally on Sunday while one of the men who made their celebration possible spends his last Weed Day in a Mississippi prison.
Marc Emery, 56, is the Canadian "prince of pot." For years he sold thousands of cannabis seeds across the border from British Columbia into America and advocated legalization -- until the U.S. Drug Enforcement Administration caught up with him. Now he's serving the final months of his five-year prison sentence for selling seeds. After July, he will be free to go back to Canada -- and his wife, Jodie, could not be more ready.
"For all those years I didn't really think about what I was missing, or I didn't really look forward to him coming home, because it was too hard and painful," Jodie Emery told HuffPost. "Now, with under three months left, I'm letting myself feel excited."
Before Emery went to prison in the U.S. in 2010, he helped organize the first 4/20 rally in Vancouver all the way back in 1995, an experience he described in a blog post for HuffPost Canada. He donated to marijuana legalization groups on both sides of the border, and he helped found the British Columbia Marijuana Party.
"Marc has really been an inspiration, and instrumental with seeds and money," said Jodie Emery, also a legalization activist. "An inspiration for everything that's happened in the United States."
Jodie Emery said her husband feels a certain amount of pride and ownership in changes that have swept through the U.S. in the past few years, particularly recreational pot legalization in Colorado and Washington.
"He's seen the mission accomplished and he's coming home pretty victorious on the American side," said Jodie Emery. "But Canada is a whole 'nother story."
Even as American politicians -- including President Barack Obama -- have been softening on marijuana, Canadian Prime Minister Stephen Harper maintains a hard line on drugs. He accused the leader of the opposition Liberal Party, which supports ending pot prohibition, of "promoting marijuana use for our children."
"We're not the friendly little neighbor up north," quipped Jodie Emery.
She has fought the Canadian and American governments for years over prison conditions for her husband, first getting him released from a private prison and then trying, unsuccessfully, to have him transferred north of the border to serve remainder of his sentence.
On Sunday, Jodie Emery will be enjoying time with the tens of thousands of Canadians who attend Vancouver's annual 4/20 rally. Behind the stage will stand a gigantic "Free Marc" poster, picturing her husband smoking pot. It's a reminder, she said, that even with the dramatic changes in attitudes toward marijuana, many people are still in prison for marijuana-related offenses. She said she has met some of their family members on visits to her husband.
"A lot of people are still spending time in jail, and even with all the wonderful changes today and every day from now on, Americans continue to go to prison for pot," she said. "So celebrate cannabis, but protest prohibition. That's what 4/20 is about."
BEFORE YOU GO
PHOTO GALLERY
Top 50 Most Influential Marijuana Users