Philanthropy is a key part of Greek life, and recently, a few fraternity and sorority events caught our eye.
Shaving Their Heads For A Reason
Greeks at the University of Maryland shaved their heads in a "Going Bald for Bucks" event. Members of UMD Greek life are supporting Kyle Greaver, who was diagnosed with metastatic Ewing's sarcoma, a cancerous bone tumor, according to the Dimondback. So far, they've raised more than $20,000 to help Greaver with medical costs, though their ultimate goal is to raise $35,000.
Love seeing the @UMDFIJI men shaving their heads & raising $ with @umdAOII in support of FIJI brother Kyle Greaver! pic.twitter.com/6Uyr6kqVTE

— UMD Greek Terps (@UMD_GreekTerps) April 11, 2014
Helping A Brother With Lymphoma
Members of Sigma Alpha Epsilon at the University of South Carolina organized a charity baseball game to help with the medical bills of David Simone, a brother diagnosed with lymphoma.
"Part of being in fraternity is knowing that you have that group of guys that have your back under any circumstances," Jamie McClement, an SAE brother, told WLTX.
Sleeping In Boxes
The Pi Kappa Alpha fraternity at the University of Nebraska-Omaha built and slept in a village made out of cardboard boxes to raise awareness about the homeless and collect donated food.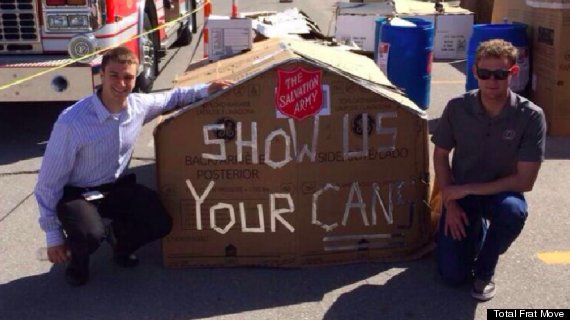 World Sandwich-Making Record
At the University of Southern California, the multicultural fraternity Zeta Phi Rho, along with the university's Special Events Committee, got together with a goal of making 20,000 sandwiches for the homeless on Skid Row in downtown Los Angeles, KNBC reported. In the end, they made 17,341 sandwiches in one hour, beating the world record.
Playing The Easter Bunny
Kappa Sigma at Idaho State University planted 6,500 Easter eggs for 300 kids to find.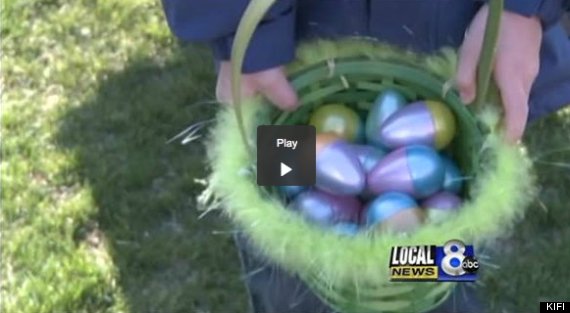 Like Us On Facebook

Follow Us On Twitter
CORRECTION: A previous version of this story referred to a Sigma Alpha Epsilon chapter being at the University of Southern California, the correct school was the University of South Carolina.