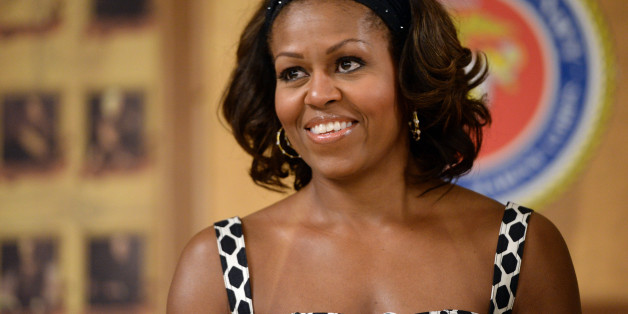 This is the biggest Michelle news since Ashley and Mary-Kate Olsen got their memory back after falling off that horse on "Full House."
Michelle Obama, who is already set to make guest appearances on a military-themed episode of "Nashville" on May 7 and "Parks and Recreation" on April 24 in support of her "Let's Move" campaign, is adding another appearance to her busy schedule. On Monday, April 21, Disney announced that the First Lady will also appear on its sitcom "Jessie." That makes a total of three scripted TV appearances this spring for Mrs. Obama, who we must assume is in some secret competition with Ryan Seacrest to be the most televised person in the universe.
With all these new appearances coming up, it's time to take a look back on the First Lady's most memorable guest appearances to date.
5. Michelle Calls Out Colbert

In 2012, Mrs. Obama appeared on "The Colbert Report" when Stephen Colbert imagined what she would say to him when she learned he was supporting the troops. However, Obama quickly calls out Colbert's hairline, and everyone has a good laugh except for probably Lebron James.

4. "Ew!"

The First Lady stopped by "The Tonight Show" in February to mark the fourth anniversary of her "Let's Move" campaign. During the appearance, she tried to convince Sara (Jimmy Fallon) and Stacy (Will Ferrell) that kale chips are not "ew." The girls are a bit skeptical, but kale chips are definitely delicious, especially if by "kale chips" Mrs. Obama means bacon cheeseburgers.
3. "The Biggest Loser"

Also in support of "Let's Move," Mrs. Obama stopped by "The Biggest Loser" in 2012 to get the contestants and the rest of America on their feet to exercise. It was truly inspirational, but watching the exercising is exhausting, so feel free to eat a bunch of pizza and pass out after viewing. You've earned it.
2. "iCarly"

Obama, aka "her excellency," stopped by "iCarly" just to tell the gang she was proud of them because Carly loves her dad and Freddie and Sam are good friends. The whole things seems like it could've probably been handled in a phone call, but perhaps Mrs. Obama is on some sort of limited minutes plan.
1. "The Evolution of Mom Dancing"

Without a doubt, Michelle Obama made her greatest guest appearance when she stopped by "Late Night" to show us why our moms are so good at dancing. Watch the clip to enjoy classic mom moves such as "Go Shopping, Get Groceries," the "Happy Snapper" and the "Where's Your Father (Get Him Back Here!)."
BEFORE YOU GO
PHOTO GALLERY
'Nashville'